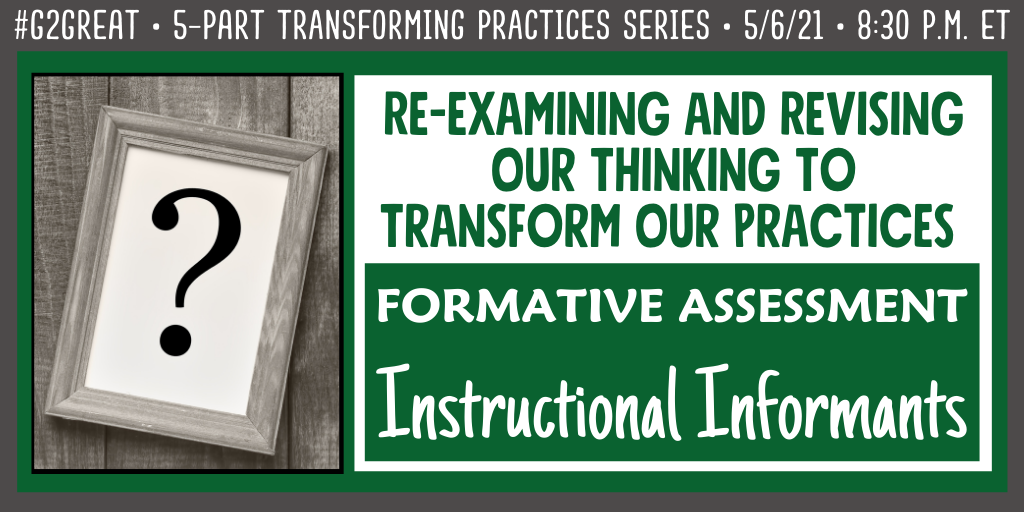 by Brent Gilson
To check out the archive of this chat head over the the Wakelet here.
My Journey With Assessment
I have been teaching now for 11 years. I think back to my days in University and having taken courses on assessment; the idea of Assessment of Learning vs Assessment for Learning was drilled into me. It was the most basic understanding I had of summative versus formative assessment. I remember excitedly beginning my career thinking about all the potential. Potential locked behind kids who were worried about those summative assessments, how through formative assessment, reteaching and preparing them those tests would be less scary, less binding. They would be ready. Little did I know that so many teachers in my early days were not clear on the idea of formative assessment. We had grade books FILLED with marks for every spelling, math, grammar, science, social, writing exercise you could imagine. Assessment did not look like it was for more than anything than points and students were already in 3rd grade becoming excellent point collectors. Our division brought in all the PD in the world but practice rarely changed. Over time I started looking for things I could do myself, to just move the needle on assessment in my own room. Exit slips, hinge point questions, I worked with a local assessment consortium to learn about ways we can write questions better to explore what our students were missing. I learned to resist the call to bludgeon our students with an avalanche of data in a grade book and focused on what mattered…them.
Today
Last spring the pandemic took a lot from us, our physical classrooms, the ability to have face to face conversations, sit shoulder to shoulder with our students safely. It also gave me something though and that was time. Time to research and look at my practice and one thing I really wanted to move towards was a feedback system that was less about grades and more about growth. I stumbled on to a book by Dr. Sarah M Zerwin titled Point-Less (the wakelet can be found here). Her work really helped me to frame what it was I wanted to do in my classroom. I shifted more towards students setting and assessing their own goals while I did the same. The conversations we have been able to have shifted in my classroom as well. Students are asking less "How many pages does this need to be?" Or "how much is this worth on the report card" and have started accepting statements like "Quality over Quantity" and understanding that all assignments are data to guide learning and completing their own goals. We are all engaged in work to inform how we are doing as both students and teachers. I am not certain I will ever be done learning how to assess because I keep moving the goal posts trying to be better. Looking at my practice and how I can grow. Imagining the freedom of a class no longer concerned about summative exams because there are no surprises they know where they are… learning.
The Chat
This whole reflection takes us to the chat. Teachers gathering to share their thoughts on formative assessment. We all recognize there are challenges, cracks that some of our students are being left to trip on because we either don't know better or have not taken the time to ask what is better for them. I think the pandemic has pushed some questions to the surface, many on equity. Another is just the topic of how students learn best. I have had students thrive when online. A self-guided approach where they are in the comfort of their home, working at their pace and time has been what they needed. Other students who thrived in the systems pre-covid, struggled when left to manage themselves.
Is this observation not just another point of formative assessment? How can we adjust our practices to meet all students?
Looking through the tweets from Thursday I am struck by the fact that we do know the issues, also by the fact that largely they are the same problems we have been dealing with since assessment became a money maker. Standardized Tests and the companies that make them are big business and they are working overtime to shift our focus back to these programs and tests that forget the child and focus on data.
When we look at the myth of learning loss because of Covid it is being pushed by companies, not by classroom teachers. When I assessed my students at the start of this year, early in the pandemic, certainly there were gaps I had not identified previously. But we are in a pandemic. When looking at the whole learner I see incredible growth. Students are learning time management, critical thinking, empathy and compassion. They are also learning all the things that a standardized test measures but the environment has changed. The assessment, to remain valid, must follow.
There was a lot of great thinking in the chat and I would recommend spending some time with the linked wakelet. In my own reflection I am continually going back to my students. If my assessment practices are driving them away from joyful learning then I am doing it wrong. Strong formative assessment takes work, it takes trust and it takes relationships. When our students know that they no longer need to be afraid of falling because we will catch them, they will take that learning leap. We just need to be there.
You can revisit the other chats in the series using the links below.