by Mary Howard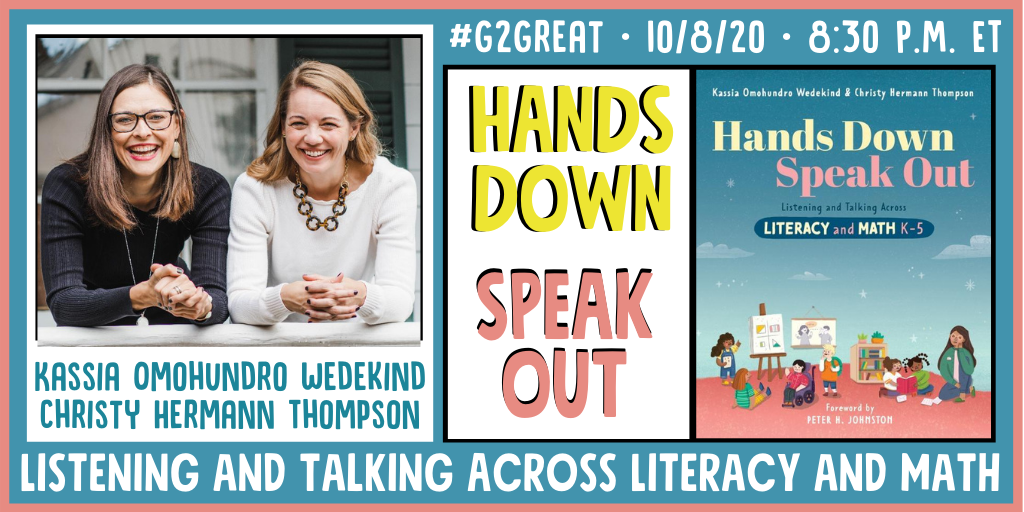 On 10/8/20 we were delighted to welcome first-time guests, Kassia Omohundro Wedekind and Christy Hermann Thompson to our #G2Great chat table. It didn't take our team long to recognize that their new book, Hands Down, Speak Out: Listening and Talking Across Literacy and Math (Stenhouse, 2020) deserved a twitter style celebration. Judging by the enthusiastic dialogue and ever so fast-paced conversation, our #G2Great family wholeheartedly agreed.
Having devoted my life to a joyful dive into all things literacy, I was struck by the lovely way that Kassia and Christy created a complementary merger where literacy and math converge into glorious harmony on the talk playing field. Engaging student discourse has always been central to my work, but I had never considered the talk process beyond my own literacy lens. I quickly saw the many commonalities between talk that takes place in literacy and talk that takes place in math. By acknowledging commonalities across varied contexts, I see the potential for transfer of learning as we also contemplate our role in lifting student voices in varied talk opportunities while avoiding pitfalls that may silence those same voices.
This thought is beautifully verbalized by Kassia and Christy in a quote from their book that we shared during our #G2Great chat: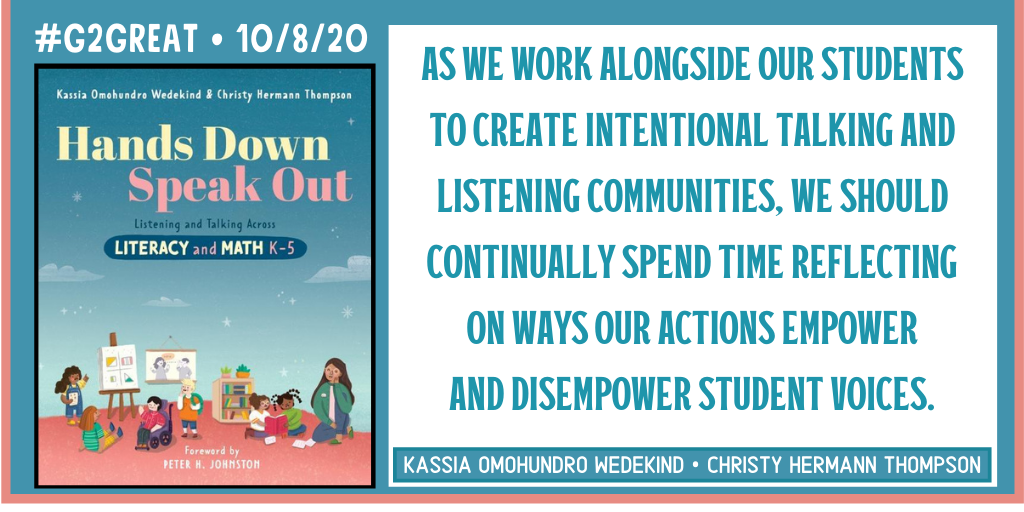 With the exception of those who wrongly believe that school is defined by a teacher talking and students listening, I am confident that educators share a deep desire to empower student voices. But empowerment doesn't happen by chance. Rather, we must assume responsibility for daily decision-making that allows us to approach talk in a way that keeps students at the center of talk experiences. This assumes that we model purposeful talk but are also willing to step out of their way as we begin to relinquish control of the talk process. These choices impact whether students find themselves on a talk path where they feel empowered or one where disempowerment is a dark cloud that silences them.
In their amazing session for The Educator Collaborative Gathering 9/19/20, Hands Down, Speak Out: Making Space for Student-Led Conversations in the Primary Classroom, K-2 Kassia and Christy illustrated this point through their shared goal, "We want to create a classroom community so that every child who wants to talk will feel comfortable doing so." To our benefit, Kassia and Christy expertly show us how to do that across their book with student examples, micro lessons, teacher tips, resources and rich advice peppered generously across a vast sea of wisdom.
Before I turn my focus to our #G2great chat, I'd like share insight into Hands Down, Speak Out from our authors. We were so enamored by this talk merger across the curriculum that we were inspired to do what we have never done in nearly six years as a weekly twitter chat. We combined two books over two weeks with our first "Book Pairing" that includes Maria Nichols on 10/15/20 for her wonderful book, Building Bigger Ideas: A Process for Teaching Purposeful Talk (Heinemann, 2019).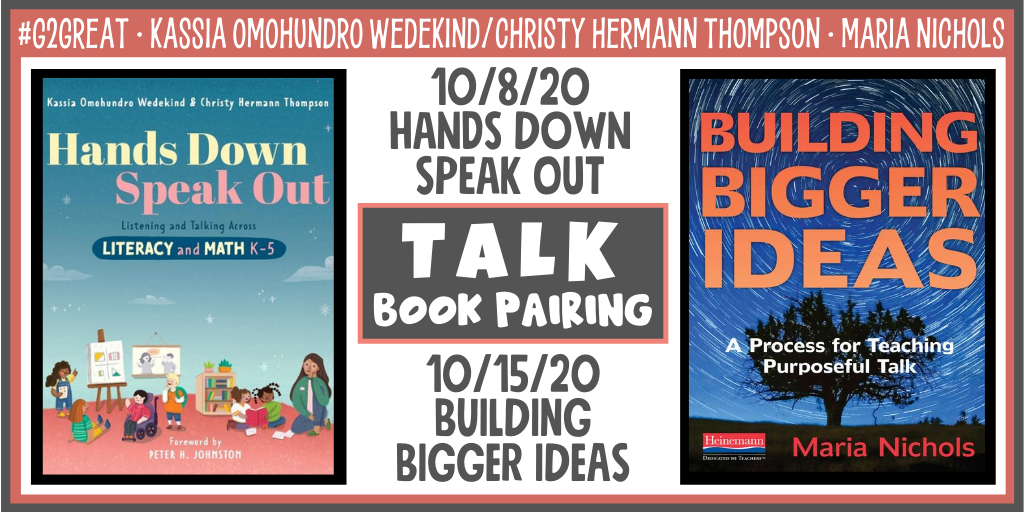 As we discussed the idea of Book Pairing around the topic of TALK, Kassia, Christy and Maria had a wonderful idea to create video conversations about their combined books. This week, I'd like to share two of those captioned videos with the final two videos shared in Maria's post next week. In these videos, Kassia, Christy and Maria reflect on:
How are the two books similar?
Since this blog post is an after-chat reflection for Kassia and Christy twitter wisdom, I turned back to the chat for inspiration. First, I gathered several of their tweets looking for insights to extend their book. There were so many amazing points that it was challenging to limit the spotlight tweets, so I opted to share a slightly condensed list with Fifteen Talk Tips from Kassia and Christy with my brief reflections. Their combined tips include both talk moves and cautions that will allow us to make those moves.
Talk Tip #1: What we believe becomes our reality (and theirs)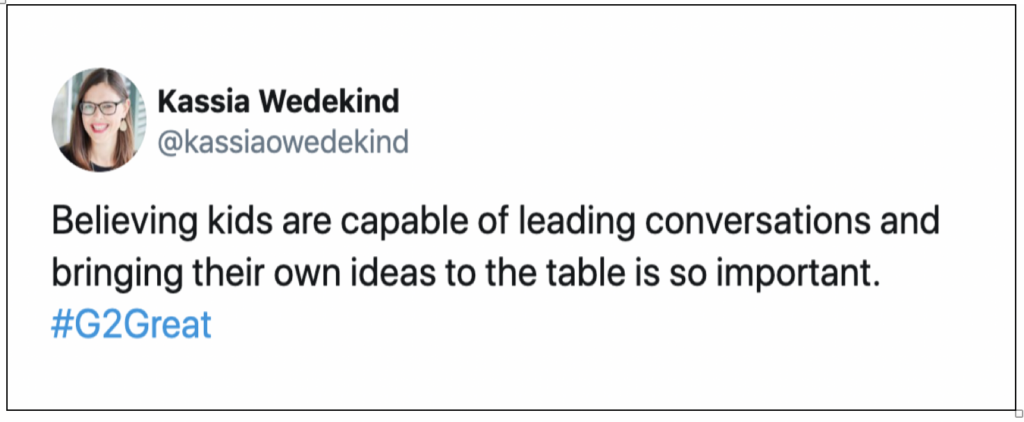 Kassia gives us the ideal starting point since the beliefs we carry into our learning spaces impact all we do. Well-meaning teachers may maintain control of classroom talk out of concern for student success – a belief that can become a self-fulfilling prophecy. When we allow shaky beliefs to cloud our view, we see our children from a deficit lens. Believing deeply in their talk potential with needed supports initially builds a culture that nurtures talk. We must question how students can see what is possible if we don't.
Talk Tip #2 Avoiding descriptors that limit talk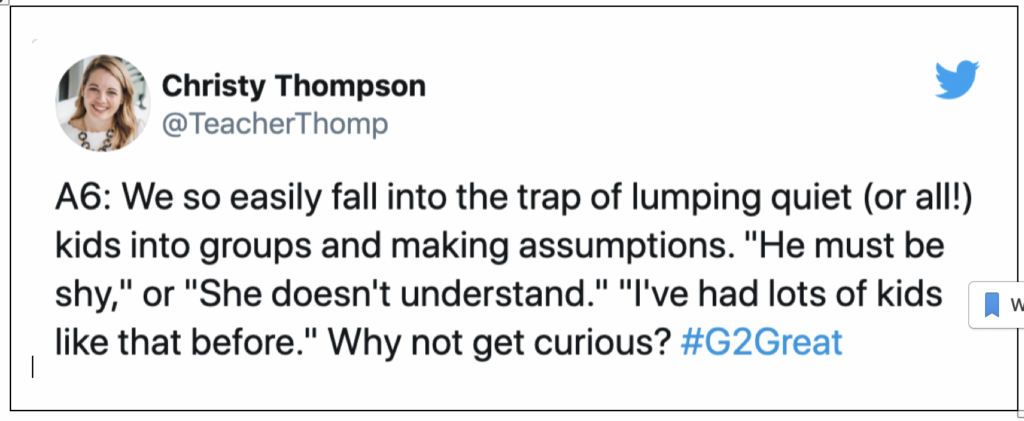 Schools have long held on to numerical values that often become labels used to define children. Just as this is true from a testing perspective, it is also true when we apply labels in the form of descriptors designed to reflect who we assume them to be. Christy's reminder to use quiet as a source of curiosity that leads to observations is important as this can gently nudge us to new understandings of what quiet means from a broader perspective.
Talk Tip #3: Re-envisioning our role in the talk process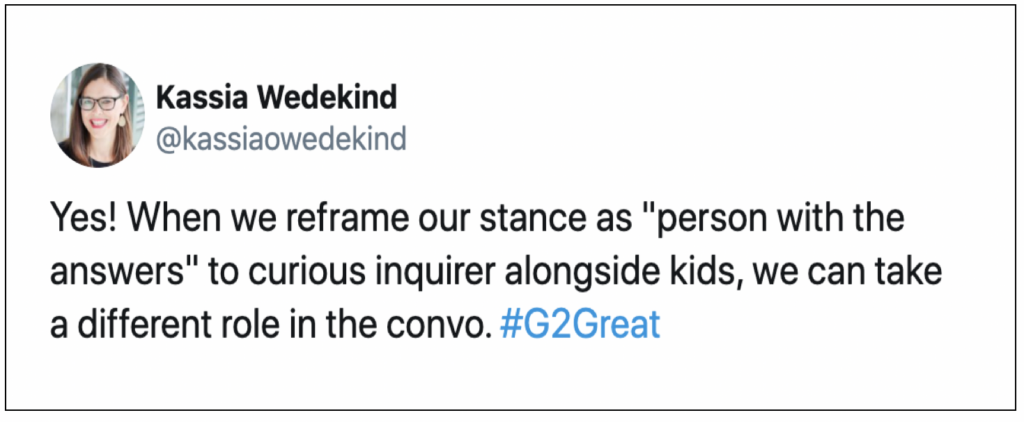 It's not an accident that Christy's tweet is followed by Kassia's repetition of the word "curious." When we assume that is is our job to be the knower of all things, then children will look to us for assistance or confirmation. In the process, we miss the wisdom that may remain underground. This move to "curious inquirer" invites opportunities that are likely to make the invisible visible, and thus teach us much about student thinking.
Talk Tip #4: Learning to break old habits that derail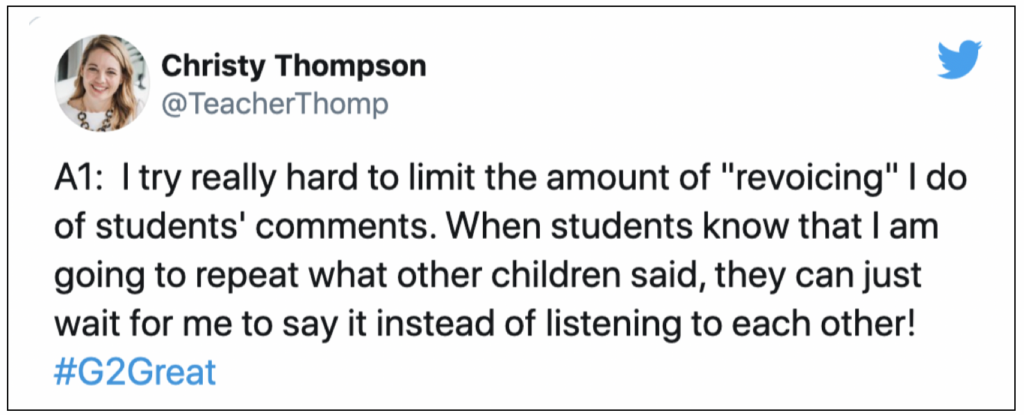 I've never heard the term "revoicing" but I recognize it as something all too common based on Christy's description. How often to we take students' words and repeat or restate them, often changing the underlying message in the process. To help students engage in real world talk we must be willing to demonstrate real world listening. That require us to stop coming to the rescue and acknowledge what they say and how they say it.
Talk Tip #5: Supporting a talk path leading to ownership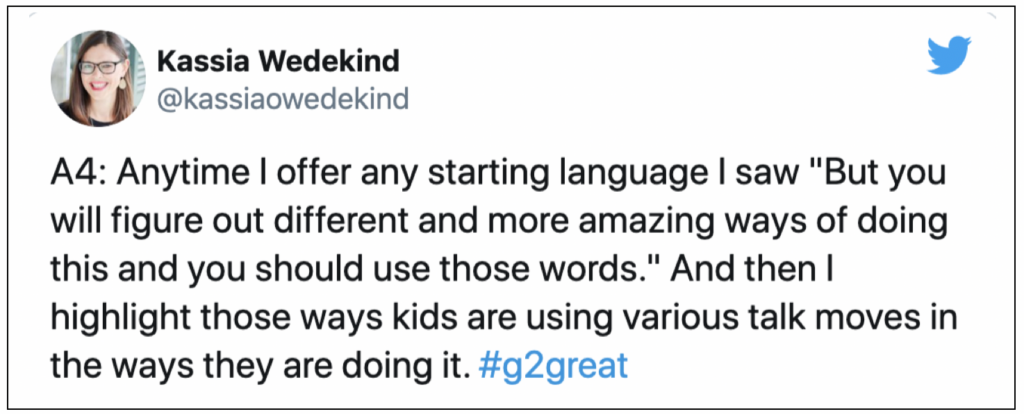 Kassia eloquently worded how this path to ownership begins by setting the stage for talk while leaving room for students to assume ownership of how they express their ideas. Using a reflective talk mirror to listen to students allows for observations as students explore talk options for getting their ideas across. Students are then given time and space to model this process for each other while engaged in talk as we get out of their way.
Talk Tip #6: Loosening the reins to invite authentic talk
As I read Christy's words, I thought of the many times I have experienced this talk view. When we create an obligatory TALK BOX, we limit expression and promote talk that is far removed from real-world discourse. We can't invite students to express their ideas and then refute how they get those ideas across in meaningful ways. This is a great disservice that sends mixed messages about the purpose of turn and talk as a task vs exploring ideas.
Talk Tip #7: Re-defining talk with a virtual learning space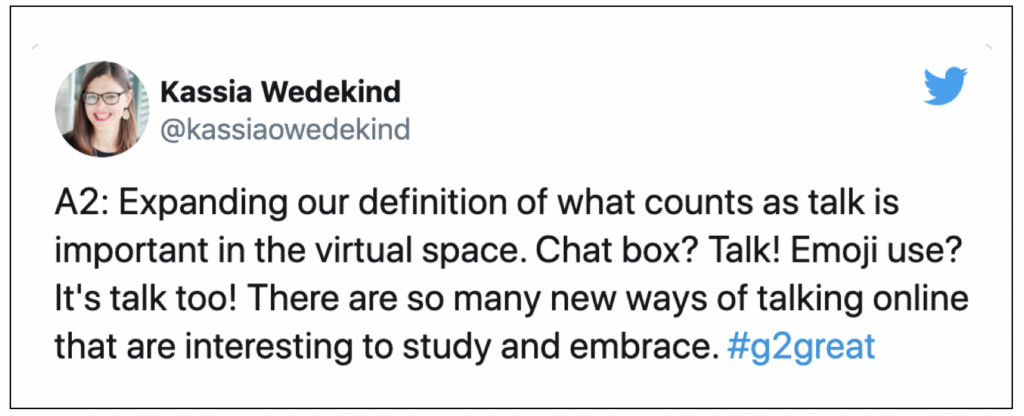 Kassia illustrates the digital instruction that is a reality for many teachers during this pandemic. In spite of the challenges that have come with our move to a virtual space, it also affords us an opportunity to redefine talk within this new teaching and learning experience. This seems like a worthy discussion for schools to have as they explore viable options and consider powerful ways to embrace, nurture, support and extend those options.
Talk Tip #8: Using small groups as a precursor for talk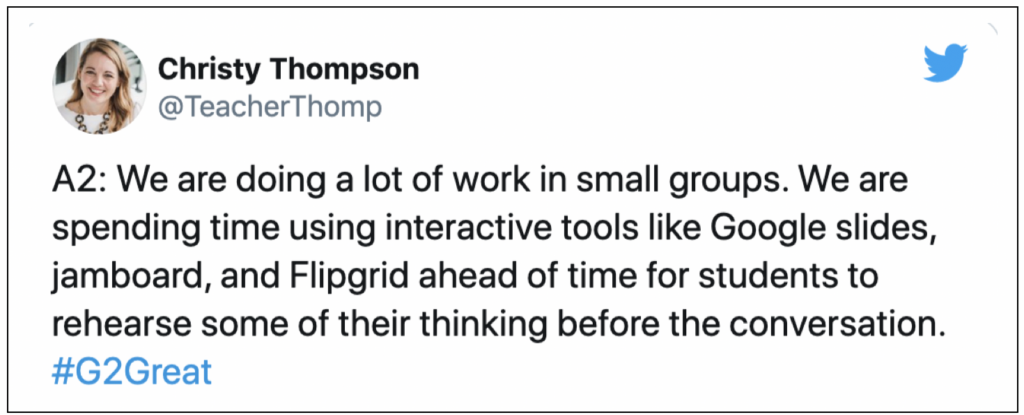 Christy continues Kassia's virtual teaching focus by reminding us that carefully chosen talk tools can elevate small group learning. More than ever before, we have a variety of tools that can maximize these collaborative talk opportunities. This can create space for students to think about their own thinking before sharing their ideas in whole class digital experiences. This rehearsal time offers a scaffold that is sure to enhance any next steps.
Talk Tip #9: Exploring talk from multiple perspectives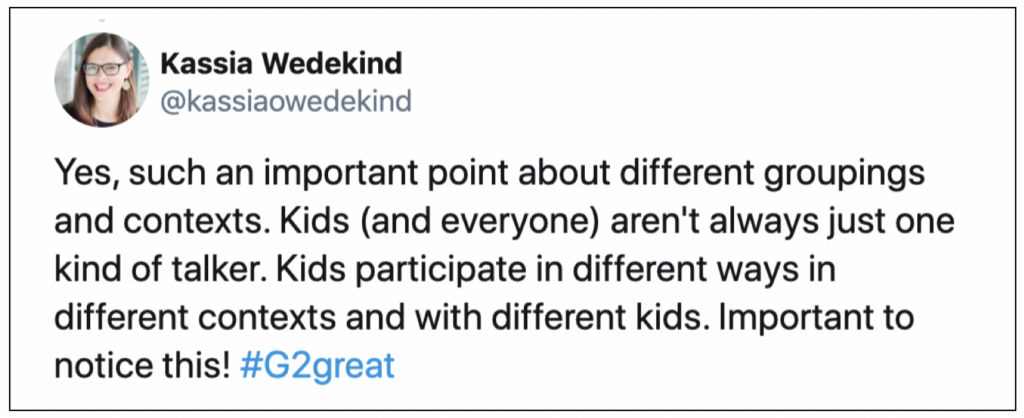 Kassia extends Christy's small group theme by showing us that a wide range of talk experiences in varied groupings will support different "kind of talkers" that can thrive in different kind of groupings. This is a wonderful way to rethink instructional design in any setting so that we can support these conversations across different groups with different purposes.
Talk Tip #10: Turn and Talk as a thinking playground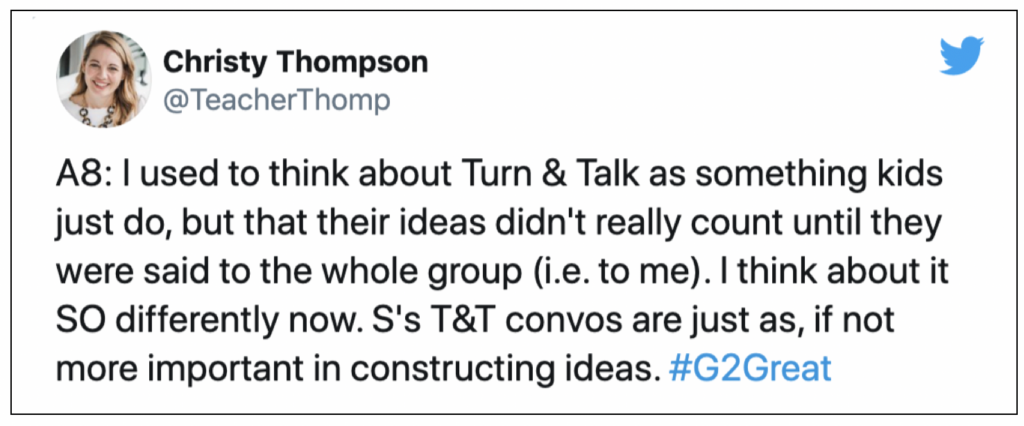 Christy beautifully illustrates how she shifted her perspective from turn and talk used to prove thinking to others vs. turn and talk that offers an opportunity to explore thinking in small collaborative partnerships. Her view of turn and talk as opportunities to construct ideas is so important and it frees the teacher to become a fly on the wall observer listening to those conversations in action that can take root and grow.
Talk Tip #11: Inviting real world talk into our schools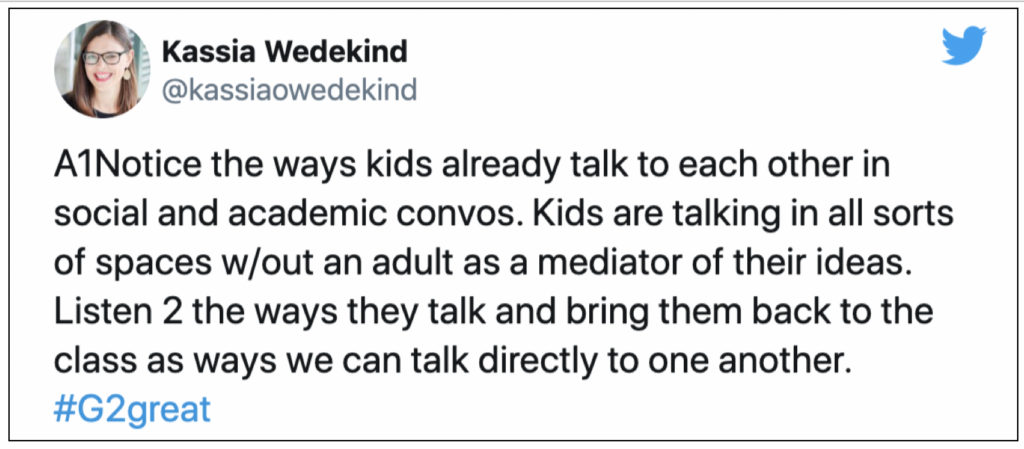 I've always found it fascinating to listen to how young people communicate beyond the school setting. Listening to these authentic exchanges can teach us so much about students and how they use talk within their every day surroundings. Kassia reminds us to use what students do naturally in their own lives. Listening to conversations that aren't bound by contradictory rules and directives can help us to elevate school talk by celebrating the home-school connection.
Talk Tip #12: Dismantling the existing social power systems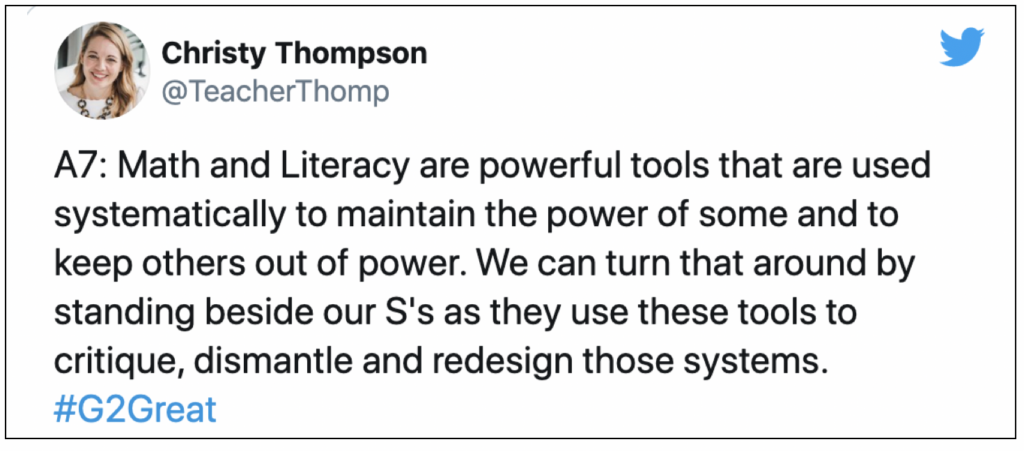 Christy asks us to acknowledge the imbalance of power that can exist in the talk students engage in within our schools. She helps us to consider how we might shift that imbalance using tools that will support collective ways we might "critique, dismantle, and redesign those systems". I love her reminder to stand beside students and support them within this rebalancing process.
Talk Tip #13: Creating an equitable talk landscape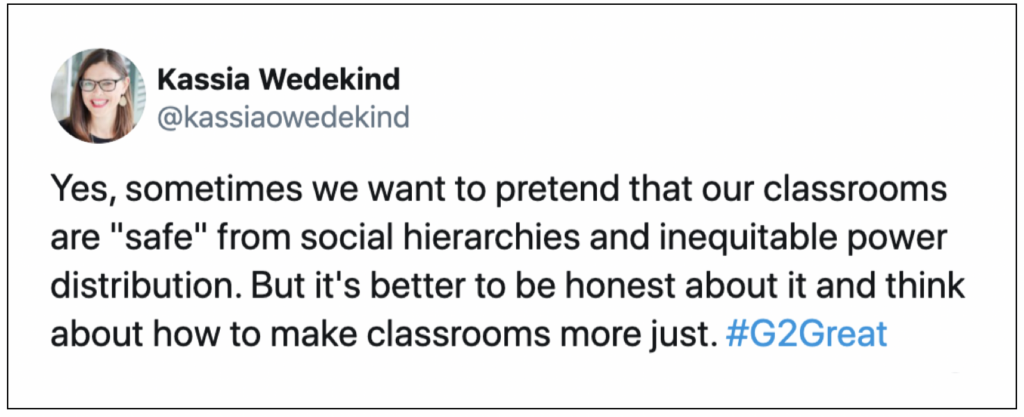 Kassia extends Christy's point as we begin to notice the inevitable 'social hierarchies and inequitable power distributions'. This requires our honesty but it also demand that we have a sense of awareness about both individual students and the collective culture of classroom structures that we may be inadvertently perpetuating. 'More just' classrooms is a collaborative effort fueled by talk that can either invalidate or support new understandings.
Talk Tip #14: Knowing where digging deeper counts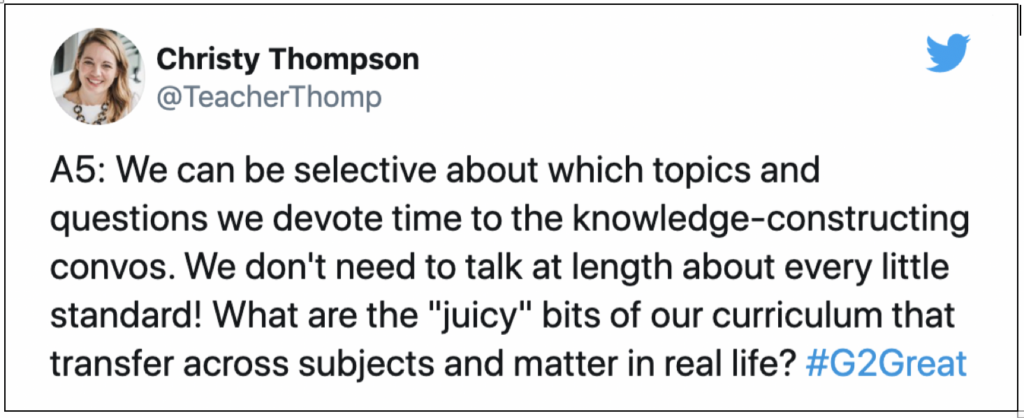 Christy's tweet is a critical point any time but especially during a pandemic. If we want to create classroom communities where talk makes room for students to explore topics at greater depth, we must avoid viewing the day as a never-ending instructional obligatory distraction. Highlighting "juicy" bits across the curriculum that matter most will create experiences with huge payoff that matters in the lives of students.
Talk Tip #15: Looking for what is already there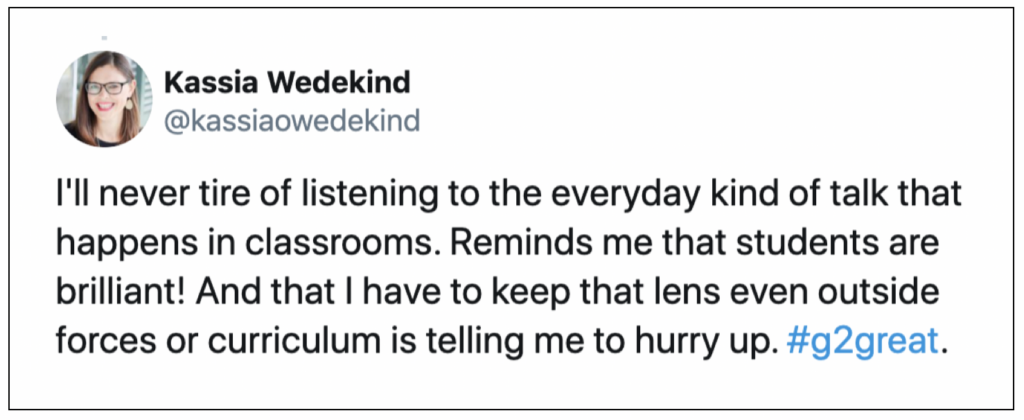 I purposely saved this tweet from Kassia for last since it allowed our tips to move full circle. We start by believing that every student has great potential for leading meaningful discussions and then take ample time to admire the brilliance that beckons us to listen carefully. This also extends Christy's last tweet to honor the precious limited time we have available so that we can open a door to opportunities where deeper talk experiences await us.
My Final Thoughts
These fifteen talk tips and more are written in great detail in Hands Down, Speak Out so I hope this entices you to take a closer look. You can start by checking out these two wonderful resources including their Stenhouse podcast, Listening and Talking Across Literacy and Math and website/blog.
As I come to the end of this post, I return to The Educator Collaborative Gathering on 9/19/20 with a guiding question from Kassia and Christy we should all be asking if we truly desire to move toward more powerful talk:
"What are students ALREADY doing in their talk and where can we start to help them grow?"
This essential starting point is wonderful advice. Too often school start from the outside-in by making decisions based on curricular obligations. What if we followed this wise advice and approached talk from the inside-out as we begin with students and what they bring to the talk experience now? In this way, we could use the curriculum to enrich what they already bring to the learning table rather than inviting them to a table that has already been set according to a school induced agenda. I think that this could dramatically alter our efforts to create a "hands down, speak out' talk culture.
In closing, we'd like to thank Kassia and Christy for sharing their knowledge and passion for listening and talking across literacy and math. I know that many of us will return to this chat and their book again and again.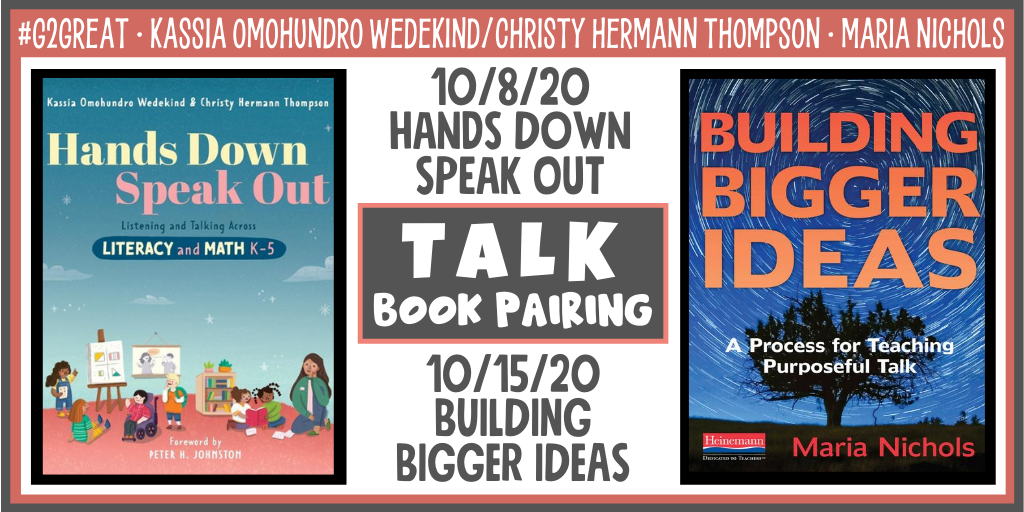 Please join the second half of our pairing next week when Maria Nichols is our #G2Great guest. To whet your talk appetite for week two, here are four tweets Maria shared during our chat this week for a tantalizing preview. It's our hope that you will bring what you learned from Hands Down, Speak Out and notice the many intersections that lead to Building Bigger Ideas.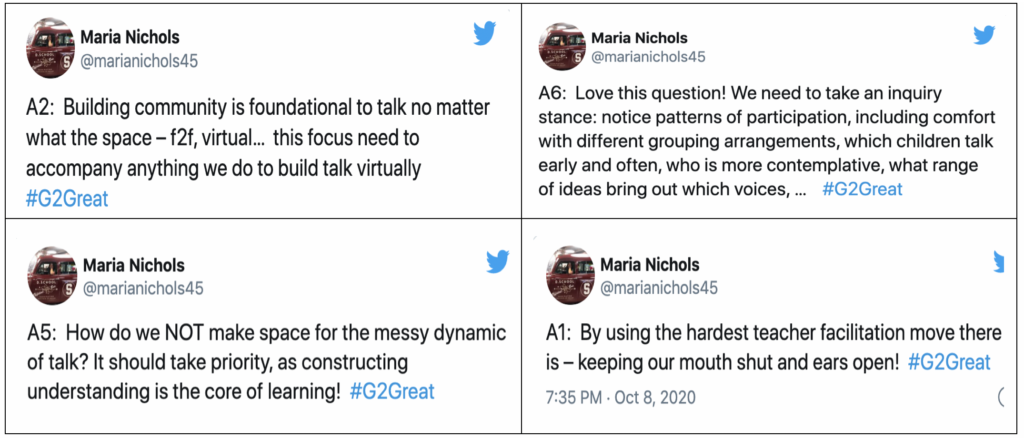 LINKS TO LEARN MORE ABOUT KASSIA AND CHRISTY
Stenhouse Podcast: Listening and Talking Across Literacy and Math
Kassia and Christi website/blog: https://handsdownspeakout.wordpress.com
Kassia and Christi's session on The Educator Collaborative Gathering 9/19/20