by, Jenn Hayhurst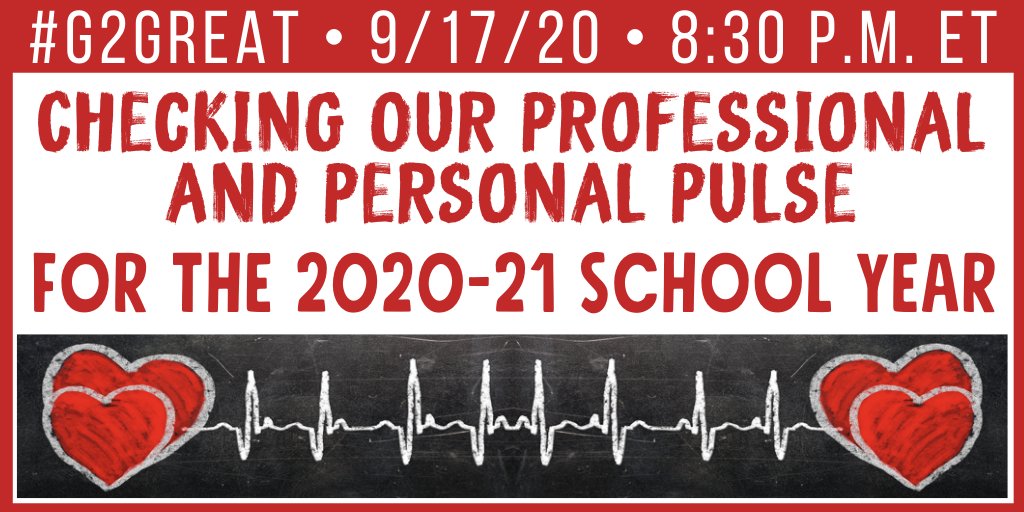 This blog post is dedicated to all of us who are either working in schools or attending schools across our nation and throughout the world. Unless you are going to school right now, it would be difficult to understand the level of stress we are all experiencing. Teachers, administrators, support staff, and especially students are all coping with the impact of COVID-19 and it is not without some cost. This is why #G2Great focused on taking our professional and personal pulse for the 2020 -21 school year. As I think about how to shape this post I can scarcely get through the replies to question one of the Wakelet without my pulse beating like a rabbit.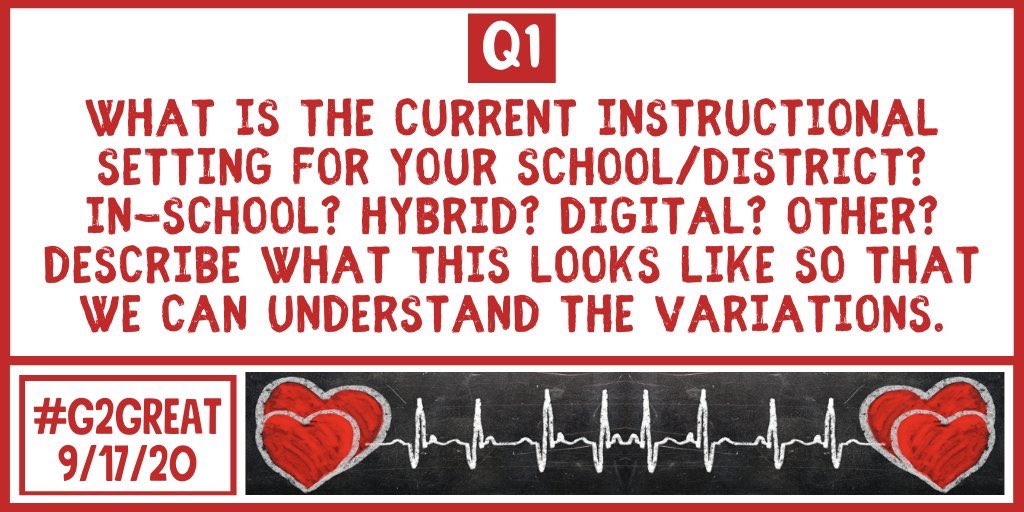 Some are 100% virtual. Others are hybrid which may look like this: two cohorts of students attending in person Mondays and Tuesdays or Thursdays and Fridays Every Wednesday is a virtual day for all students. Some are attending in-person full time with social distancing and mask-wearing. Others are attending full time within their own class bubble without social distancing. It may be easy to read and conceptualize what these options might be like; a person might say, "I get it, I am informed. I read the the CDC's Continuum of Risk but school administrators and leaders know what they are doing." You'd be correct to have confidence in us. We are doing everything we can to make school safe and secure for students and staff. However, we have never done this before, and it is the ongoing emotional strain of working within these systems that is like a silent oppressive force.
This teacher is speaking her truth, and her truth is very much in line with my own. Many of you reading this post today may be feeling the same way. We bring both expertise, empathy to the job regardless of our personal struggle. Whether we are showing up virtually or face to face we are giving it our all. The word that keeps coming back to me is resilience. Teachers are resilient.
Did you know, there are seven essential building blocks for resiliency? According to Kenneth Ginsburg, they are: competence, confidence, connection, character, contribution, coping and control. It should be no surprise that teachers demonstrate all seven every day.
Competence & Confidence
Val brings up a very important point and good reminder for us all with her tweet. Use an asset lens because we all feel much better about ourselves and our circumstances when we feel competent.
Once you feel competent it is a natural shift to grow confident. Mollie is making another important point, growing confidence comes from putting your professional energy to tried and true professional practice. Emphasize "kidwatching" and relationship building and bring some familiar experiences back no matter what setting you happen to be teaching in right now.
Connection & Character
I got you Julie. Knowing that a caring community is there to give you advice, or just there to listen without judgement is something we all need. Get that any way you can. Maybe your school is not a place that offers that support, but then look for it someplace else. Twitter, and #g2great in particular have become very important to me. I know I belong, I found my people.
I was drawn to Fran's tweet, because it is just good advice for us all. Living the advice offered in her tweet would be an excellent model of character in action. Especially living in these times where people of good character can be difficult to find. I can do my part, I can try to live up to Fran's words and that helps to ground me.
Contribution & Coping
While I don't know this for sure, but I would wager that Kathy Sahagain, paid for those books out of her own pocket. I feel it in my bones, but even if she didn't, she is a great example of an excellent teacher. Teachers like Kathy contribute towards the wellbeing of students above all else. I have found, that while we teachers may have varied professional beliefs, the one constant is the compassion and dedication we have for students. We care. We do whatever it takes.
No administrators have said these words to me, but it helps me to know that they were said. I can borrow those words, and repeat them in my mind and that is helping me to cope with the strain.
Taking Control
I cannot give you a favorite book. I cannot be the leader who is present in your school to deliver the words that help you to cope with the professional load. I can be the little voice that reminds you to take control in this moment. May I direct your attention to my esteemed colleague and friend, Laura Robb? I say this on Twitter all the time, but I need you to really do it this time, "Listen to Laura…"
Whether you are coping with the pandemic just fine, or if you are drowning, or struggling like me, know that it is all ok. Everything you are feeling is ok, and needs no justification. There is so much that is out of our control, so grab onto what you can. One thing you can do, is to take good care of yourself.
Nurture yourself, treat yourself as you would your students, or a beloved family member, or friend. Take the weekend as a gift to yourself, because you are strong, you are talented, and you are resilient. You are doing the impossible five days a week, so breathe and take a lesson from the incredible Viola Davis and know you are deserving of self-care. You are worth it.