Guest blog post by Nancy Akhavan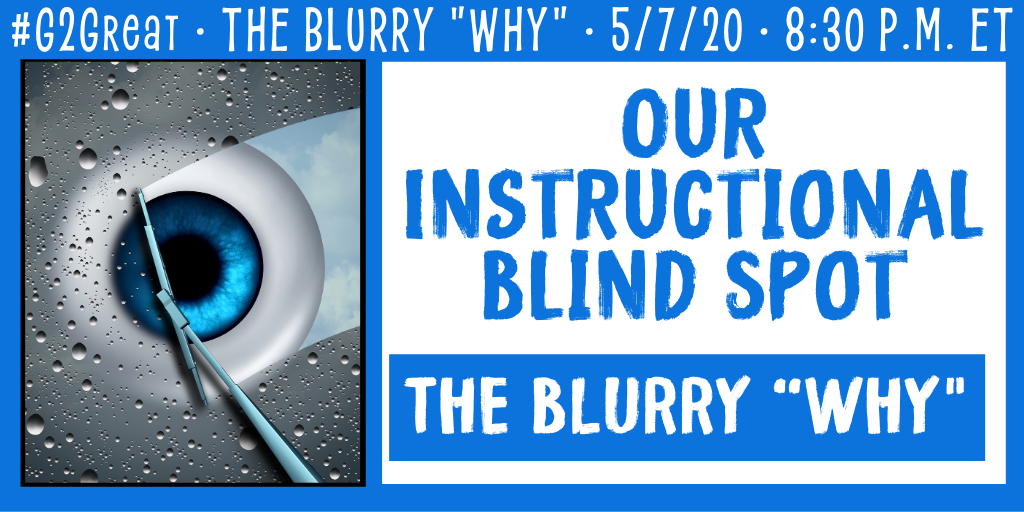 On May 7, 2020, your #G2Great team turned the discussion to contemplating Our Instructional Blind Spot: The Blurry "WHY." The events over the past several months with Covid-19 has literally changed the very face of our daily lives. This week, Nancy wrote an amazing guest post that beautifully reflects that changing face while offering wisdom and suggestions.
"Why is this happening to me? To us? To my students?" Her voice was wavering and filled with anguish. These three questions were asked by a teacher in April during a newly established virtual professional development session on Zoom.
My heart broke. We were at the beginning of a time in education, in our world, unlike anything we had ever experienced. In April, many of us were questioning the why.
Today, as we have become more accustomed to distance teaching and encouraging distance learning, we are revisiting the "why". However now, this is a why that goes beyond the "Why is this happening?" Now, as we adjust and become familiar with a routine of waking, brushing our teeth, drinking our coffee and shuffling off to sit in front of our computers, we may be asking ourselves, "What is our why today?"
In essence, we are at a moment of reinventing ourselves as teachers. Reinventing ourselves isn't entirely new to the profession of teaching. In a way, we reinvent ourselves each fall as our new students fill our classrooms and we dream of the possibilities of the new school year. Think about the new books we might read, or revisit beloved books and topics. However, this reinvention is of a new type, and it is testing our resolve.
A Blurry Why Causes Our Hope to Waiver
Olivia is a teacher in a rural area, and her students don't all have access to the internet. Because of this, they cannot use the tablet that the school gave them to connect with her during Google hangouts. It is during Google Hangouts that she has been teaching small group reading instruction, helping students read independently so they continue to grow their abilities as readers and nurture their love for reading. Olivia sees herself as a reading teacher, and her classroom at school is filled with books. Books line the tray at the bottom of the whiteboard, books fill a good-sized classroom library, and books overflow from baskets placed on students' work areas. She normally meets regularly with students for small group instruction to bolster their abilities so they become stronger and stronger as readers. Olivia asked me, "Am I still a reading teacher even though I don't have a classroom to hold space for my students? Am I still a reading teacher because I cannot sit side by side with a student and point to words as the student works through a text? Am I still a reading teacher even though I am mostly talking to a screen? I don't feel that I am." Olivia's why, as in why am I doing what I am doing, is becoming muddy.
Andrew is a sixth-grade teacher. He has a particular love for social studies and his passion flows about his classroom. He has maps and diagrams posted on the walls. He has quotes from famous leaders peering out from posters that hang from the ceiling. At any given time during the year, his students are involved in investigations in collaborative groups researching big questions about history, or about current events. His classroom is alive with the verve of students exploring topics and debating issues. Andrew spoke up during a recent virtual professional development session, "I cannot figure out who I am as a distance-learning teacher. I keep having to use district-mandated computer applications, I didn't sign up for this! Why am I having to do this now? Andrew's why, as in why don't I have more choice in figuring out a solution to instruction, is fraught with frustration.
Selena teaches in an urban area. She works with youth who needed a lot of support, but the gains her students made in all areas are worth the effort and time she puts in. Her days in her classroom are long, she would stay in during break to help students who needed extra attention to their work; she runs an after-school homework club and some students show up just to hang out in the vibrant learning environment Selena created. Selena confessed during a coaching phone call that she was secretly glad that she has been staying at home recently. She said that while she loved her students and her classroom with fierce conviction, she had been feeling a little burned out in January and February. She had noticed that more students were seeking her help with their writing during break and after school and that she was having trouble keeping up conferring with the 120 students she saw per day. Selena's why, as in why is my energy and interest waning, was touching upon burnout.
A Blurry Why Limits Our Vision for Our Students, and Ourselves
We have to know who we are as teachers and why we are choosing to show up each day, and teach our hearts out. Because that is what is feels like, our hearts are as tired as our minds and bodies are at the end of the day. If we lose our why; our sense of purpose for the work we do each day, we are seriously at risk of burnout. Denise Carver-Thomas and Linda Darling-Hammond report that about 90% of the nationwide annual demand for teachers is created when teachers leave the profession, with two-thirds of teachers leaving for reasons other than retirement. In fact, math, science, special education, ELD teachers are more likely to leave their school or the profession than those in other fields. Also, turnover rates are 50% higher for teachers in Title I schools. There are a number of reasons for teacher turnover, from dissatisfaction with standardized testing environment, to and lack of administrator support; however, many teachers leave the field because they are dissatisfied with the profession. This dissatisfaction can grow when we lose our why.
Many of us see teaching as our calling, and we have a strong dedication to our work. But, we are only human. Losing our why not only effects our personal and professional lives, it affects our students. When we lose our why we are less engaged in our work, and we have less energy and brain cells to give to our lessons and our students' learning. Overall, we have less to give, so we support students less, not because we want to, but because we cannot give more than we have to give.
Self-care Can Bring Understanding to Our Why
Self-care is important. If we take care of our health and our well-being, we are less likely to burn out and more likely to thrive. In these unusual times, we need to practice self-care and we need to give ourselves the time and space to adjust to our new teaching situation, and the uncertainty of the impact on education of social distancing expectations for the next few months
To practice self-care, we need to balance things we are doing for our health and nurture time we give ourselves to "play". Maybe we can cook, or dance around the living room. Perhaps we can take up sketch notes, even if we are not very good at drawing. There are all sorts of ways we can relax in order to practice self-care. You can also practice self-care by giving yourself grace. You don't need to be the best distance-learning teacher. You just need to do the best you can with the tools you have at the moment. For those of you whose students are not logging on to do their work, remember, you cannot control that, but you can affect the type of work your students are engaged in. Make the learning engaging as well as purposeful.
With Focus Our Lessons Lead to Learning
Engaging learning begins with having a singular focus in our instruction whether we are teaching face-to-face or in distance learning. Focus in our instruction leads to greater student learning. When we teach with a single focus, and provide ample modeling to help students understand our thinking when we are reading text, or see our thinking during think-alouds when we are writing, we can help students with their reading and their writing by guiding them. It is possible to guide students through a lesson with a single objective whatever our teaching situation may be. While you may feel overwhelmed by the difficulties you face in your classrooms, or in your virtual teaching environments, you can find your why by thinking about what you can give your students through carefully constructed lessons that provide ample time for student exploration and practice.
Jamika planned a minilesson on how to analyze characters. She carefully selected a text that portrayed the characters' feelings based on what the characters did in the middle and the end of the text. She just knew that her students would be able to feel the characters' frustrations and victories as they progressed through the story. She taught a minilesson, modeling her thinking about what she noticed the characters in the story were doing at a central point, and how they might have felt. Then she invited students to give it a try on their own. Students worked through their own texts, writing thoughts about the characters on sticky notes. After the students worked for some time, she led a class discussion and each student shared their thoughts about the characters' thoughts and feelings in the text that each had read. Her students responded with excitement as they shared ideas from their sticky notes. She had a single focus to the lesson, and her students succeeded.
Jamika new her focus. She knew her why to the lesson she was teaching. She didn't waiver from her focus during her lesson, and she didn't add in additional must do's for the students. She kept the lesson focused and simple. You might think that Jamika's taught this lesson face-to-face with her students, but she didn't. She had recorded herself teaching the minilesson, and then met with students online and guided them with their sticky notes. The class discussion – well, that discussion occurred using a web-based application called Padlet.
Clear instruction provides a space for students to explore the new strategy or skill we are teaching. Clear feedback while students practice or complete assignments, provides us a time to give pointers to our students about what they are doing that is helping them become strong readers and writers, and what they can do themselves to deepen their own learning.
A Blurry Why Causes Our Lessons and Ourselves to Lose Direction
Overloaded lessons lead to a loss of direction in our instruction. When teaching through distance learning, think of lessons as small packages. Keep them focused to a single point or objective. Don't give too many directions, or make it complicated. Keep the modeling aligned to what you want students to be able to do on their own, as they are going to be doing the work on their own. Right now, we cannot sit beside them and coach. Not understanding our true point, or our why, in a lesson makes it harder for students to learn when we are sitting with them. It is doubly difficult through distance teaching and learning. Identify the why of a lesson by thinking: What do I want students to be able to do for themselves at the end of the lesson? What is my objective? How will I model? What task will students be involved in after I model? (Remember that reading and reading a lot is an excellent focus for a task!)
Be kind to yourself if you have lost your why recently. With some self-care you can re-center yourself, and with self-reflection, you can center your lessons on what is most important.
Reference
Carver-Thomas, D. & Darling-Hammond, L. (2017). Teacher turnover: Why it matters and what we can do about it. Palo Alto, CA: Learning Policy Institute.
We are so grateful to Nancy Ackhvan for writing this remarkable post for our #G2great family. Nancy is a speaker, author, consultant and writer and you can learn more about her books and the important work she's doing at http://nancyakhavan.com, follow her on Twitter @nancyakhavan and see her distance teaching support suggestions at nancyskhavansclassroom.com