by Mary Howard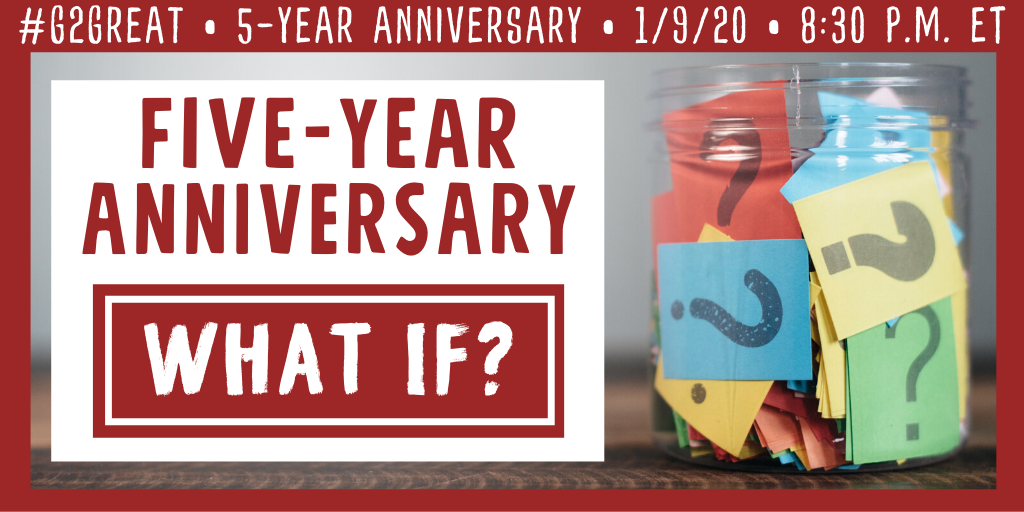 As I sit at my computer basking in the glow of our fifth #G2Great anniversary, I feel a wave of celebratory joy washing over me for collaborative conversations past and yet to come. I still vividly recall the January 8, 2015 maiden chat that launched a long history of inspired conversations. This memorable beginning marked the day I joined Jenn Hayhurst and Amy Brennan for a ten-week discussion of my book, Good to Great Teaching: Focusing on the Literacy Work that Matters (Heinemann 2012). It seems fitting that I captured the spirit of the book that gave birth to our chat in my fifth book anniversary blog post: 10 Lessons Teachers Taught Me About Good to Great Teaching.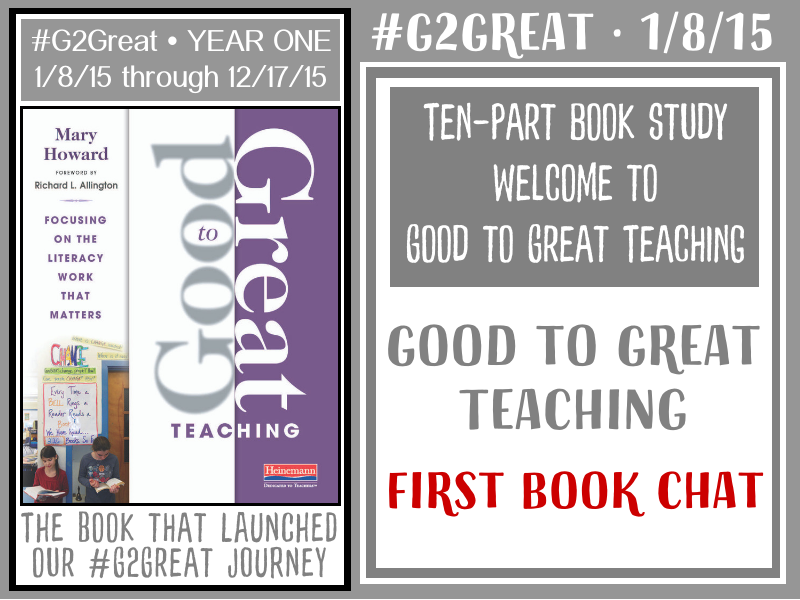 While our #G2great chat began as a short-term proposition, we soon realized that it was so much more than we had anticipated. Within a few weeks, #G2Great transformed into a passionate quest to create a long-term space for shared dialogue that is now entering year six. As our labor of love grew, our team also grew and we welcomed co-moderators Fran McVeigh, Valinda Kimmel, and Brent Gilson. I am so lucky to be surrounded by dedicated educators who are also dear personal friends.
As I glance back at five years of #G2Great chats, the magnitude of our collective impact comes to life in glorious numbers with 234 chats including brilliant authors, student voices, topics and series and 187 blog post reflections that honor each one. These chats now lovingly reside in our Wakelet home soon to be joined by new authors, student voices, topics and series in the coming year. We couldn't have imagined that someday we would celebrate five years of anniversary collaborations detailed in a rich history:
Anniversary Blog Posts
Year 1: 1/5/16 (Blog Post launch); Year 2: 1/5/17 The Gifts of YOU; Year 3: 1/4/18 (Curiosity Crew collaboration); Year 4: 1/10/19 (Curiosity Crew collaboration)
Anniversary Wakelet Artifacts
1st Anniversary chat; 2nd Anniversary chat; 3rd Anniversary chat; 4th Anniversary chat
This impressive collection of conversational collaborations communicate our deep belief in the power of professional possibility so it's no accident that "WHAT IF?" became the theme of our fifth anniversary. When I first sat down to write this post, I planned to frame my thoughts around our seven WHAT IF chat questions. But as I perused our five-year history of passion-fueled dialogue, seven new WHAT IF themes began to naturally emerge that seemed to support and extend those chat questions with interrelated WHAT IF ponderings.
And so, in honor of a five-year joyful journey, I offer seven WHAT IF queries we have explored across five glorious years within our #G2great community of professional wonderers:
#1: WHAT IF we valued time so much that we filled our day only with the most effective practices?
One of the most common themes in our chat history has been to explore professional beliefs we hold dear and how we bring those beliefs to life in our own learning spaces. We demonstrate what we value by giving those values a place of honor in each learning day. We acknowledge that this requires us to let go of those things that usurp time for what we know is most essential. In doing so, we embrace our role as thoughtful decision-makers who view each precious minute as a gift we offer our children. We do this not for some but for all children so that equitable practices will become a reality in every classroom. In the spirit of Good to Great Teaching, we say "No" to the literacy work that doesn't matter so that we can say "Yes" to the literacy work that does. This is the heart and soul upon which #G2Great was founded in 2015.
#2: WHAT IF we viewed ongoing professional learning as our instructional superpower?
We are blessed to teach at a time when research offers a readily accessible guide to support that instructional decision-making. Unfortunately, access to research wisdom is not enough as we cannot transform research into practice unless we are aware of the research and its implications and then willing to apply it in our daily practices. The most effective schools create research-based exploratory opportunities as a collective priority rising from a culture of respectful collaborations. Imagine what would happen if every teacher had access to a professional bookroom and that those books were used to inspire invitational conversations between knowledge hungry educators supported by literacy coaches who gently nudge daily learning in action. When teaching and learning work in tandem and teachers embrace their responsibility to seek and enhance their own learning, whether it is supported in schools or not, anything is possible.
#3: WHAT IF we promoted research-informed resources that nurture professional ownership?
Sadly, scripted programs, packages and fidelity-fueled boxes have gained a stranglehold on this profession and created a whole new generation of compliant disseminators in training. If we are ever to become knowledge driven educators who make choices based on our growing knowledge, we must prioritize resources that are designed to support rather than dictate that knowledge. Our actions demonstrate unwavering commitment to those research beliefs but this in turn assumes that any resources we bring into our classroom will serve to enhance our vision for increasing the volume of reading, writing and talking. This obligates schools to financially support classroom and school libraries. We thus encourage volume inducing practices that maximize student inquiry and engagement and instructional opportunities that match rather than conflict with the vision we claim to embrace. If belief drives practices that draw from research and this is then supported by meaningful resources, our students will always reap the benefits of those efforts.
#4: WHAT IF assessment informed child-centered understandings vs. labels that dictate?
Over the years, our understandings about instructional practices have grown by leaps and bounds while the quality of assessments that could support those understandings have barely budged. We find ourselves standing squarely in the center of standardized testing, grading obsessed activities and a fascination with color-coded spreadsheets that label learners with highly questionable computer and speed-driven data. Formative assessment seems to have taken a backseat even though we recognize that assessment-informed instruction is critical. A startling number of teachers have never listened to or conferred with students or taken and analyzed a running record. Over time, we have watched schools pay homage to numbers that reflect a blip on the assessment radar screen, as our responsibility to living breathing children in front of us gets lost in a sea of numbers. Knowing that this assessment-instruction merger is the only way to move past our data blind spot, we make a commitment to do so.
#5: WHAT IF the daily schedule was seen as an opportunity rather than a ball and chain?
Balanced literacy and each of the instructional components that fit within this comprehensive professional perspective have been a common discussion individually and collectively. We consider this an especially important topic at a time when the very term "balanced literacy" is undeservedly on the firing lines by those who are riddled with misconceptions about what it even means. This is particularly relevant at a time when schools are seeking to control the daily schedule with a piecemeal view of teaching rather than how those experiences work in support of one another. While #G2Great chats have looked at the "pieces" that make up a balanced literacy framework, it has been the interplay between them that has always been at the center of our dialogue. Our conversations highlight this interplay while moving us to contemplate how to create a more flexible scheduling design so that one can support, extend and build on the other.
#6 WHAT IF we believed that lifting the collective voices of our students was a professional imperative? 
#G2Great chats have championed the belief that students have much to say. We have honored this belief by lifting student voices into the #G2Great professional air through varied #chats that have put students in the talk seat. Over the years, #G2Great has promoted fifteen student-led chats ranging from the elementary grades to college freshmen. We have celebrated our students not just for who they are but for who they could be if given a platform for sharing their ideas in and beyond our chat. We believe that our willingness to honor students for all that they bring to the learning experience adds to our professional wisdom and that those voices can then extend beyond our four walls and into the world. We invite student voices because we are committed to the idea that we have much to learn from them and that listening to what they have to teach us demonstrates our belief that they are equally valuable members of our community of learners.  
#7: WHAT IF every schoolwide decision began with, "Is this in the best interest of our children?"
Interventions have been a common #G2Great discussion within and across our chat, even when that wasn't the main topic. Every chat we have ever had in the history of #G2Great focused on our belief that instructional equity is our responsibility. We know that this is only feasible if we put the unique needs of each child first by avoiding quick fix solutions and practices that widen rather than close the existing gap. We have celebrated Tier 1 as the first line of defense and expressed our concern that our intervention journey will be a blurry one when our focus is on identification over enriching our instructional practices across the learning day. We know that the only way that equity will become a reality in our schools is when we are able to ensure that each child has access to rich opportunities across the day from one side of the building to the other so that excellence is business as usual. In short, we support the notion that every decision we make is informed and guided by our commitment to children and their ultimate success.
Putting What If into Visual Perspective
As I paused to think back to these seven shifts, I realized that our chat has really been grounded in how we can move from NOW to NEXT. In the quiet of my thoughts I was drawn to something my very wise friend Heidi Mills said in an incredible #G2Great chat with principal Mike Oliver. As these thoughts swirled in my head, I captured them by creating the visual below. This image reflects the #G2Great spirit and what we have always stood for: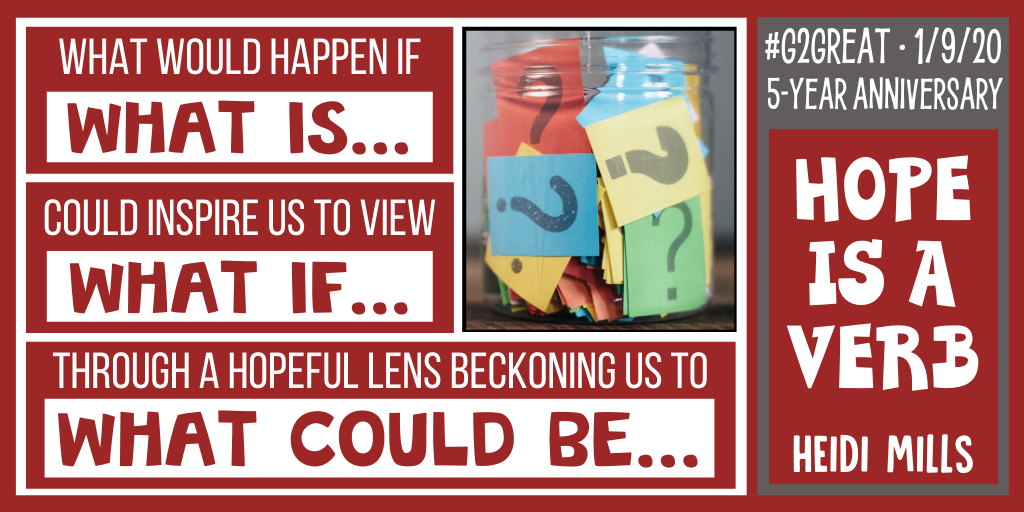 CLOSING THOUGHTS
#G2Great was created in celebration of collective professional learning and the merging of voices that give us a sense of shared direction. We are committed to creating a space where passion-fueled conversations allow us to stand up for the rights of our children to enter classrooms that represent the learning opportunities they so richly deserve. This is particularly crucial at a time when our values are being called into question by reporters and non-educators as the Twitter we love has morphed into mudslinging directed at practices and people we admire. While it is tempting to jump into the fray, we opt to expend our energy engaging in courageous conversations because we know that speaking up is more productive than engaging in ill-informed verbal fisticuffs on the social media battlefields. We will continue to maintain that stance with our sights squarely centered on our children and research informed practices that support our efforts on their behalf. 
As we look ahead to 2020 and beyond, we contemplate how we can continue to grow as professionals and colleagues. We are grateful for the courageous conversations of the past five years, but we also know that we could be even more courageous in the coming years. We make this commitment not only for ourselves as professionals, but also for those of you who join our #G2Great collaborations in honor of your students. We are so grateful to each of you for engaging in shared conversations that inspire us and we thank you for your unwavering dedication to our children…
After all, they are the very heartbeat of #G2great