by Mary Howard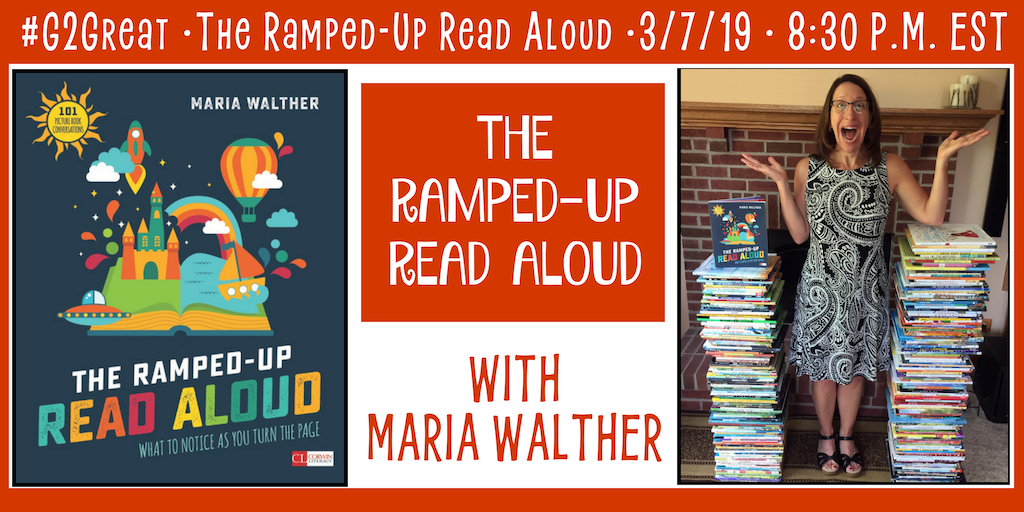 Your enthusiastic #G2great co-moderators, Fran, Val, Jenn, Amy (and Mary) have long held the topic of read aloud very near and dear to our collective hearts. Our excitement was once again elevated as first grade teacher Maria Walther joined another read aloud celebration as first-time guest host on 3/7/19. An engaging conversation quickly ensued as soon as we opened the #G2Great twitter gate to celebrate her new book, The Ramped-Up Read Aloud: What to Notice as You Turn the Page (Corwin, 2018)
When I first held Maria's book in my hands, I opened to the first page where the heading in bolded caps reached out and grabbed me by the heartstrings:
READ ALOUD = JOY!
My eyes moved excitedly down the page as I happily highlighted her words:
First and foremost, a read aloud should be a joyful celebration for all. For you, for your students, and indirectly, for the author and illustrator who toiled over each word and every image that lies on and between the covers of the book. (Maria Walther, p 1)
Already held in joyful readerly captivity, Maria's next sentence elevated my state of being:
In my mind, a picture book is a piece of art created to be cherished and applauded. Right from the start, I give you permission to simply READ ALOUD–no questions, no stopping, no after-reading conversations.
Well that didn't take long. I hadn't even left the first page and already JOY was the emotional hook that kept my face glued to each page that followed all the way to the end.
Before our chat began, I asked Maria to reflect on three essential questions. Her responses to those questions are so connected to my heartstring theme of READ ALOUD = JOY! that I'm going to approach this post a little differently. First, I'll share Maria's response to each question followed by my own reflection that keeps the joy theme at the center and then share one tweet. Before I share the joy path I'm taking in this post, let me start with a tweet from Maria that reinforced my chosen direction and made my joyful heart go pitter patter: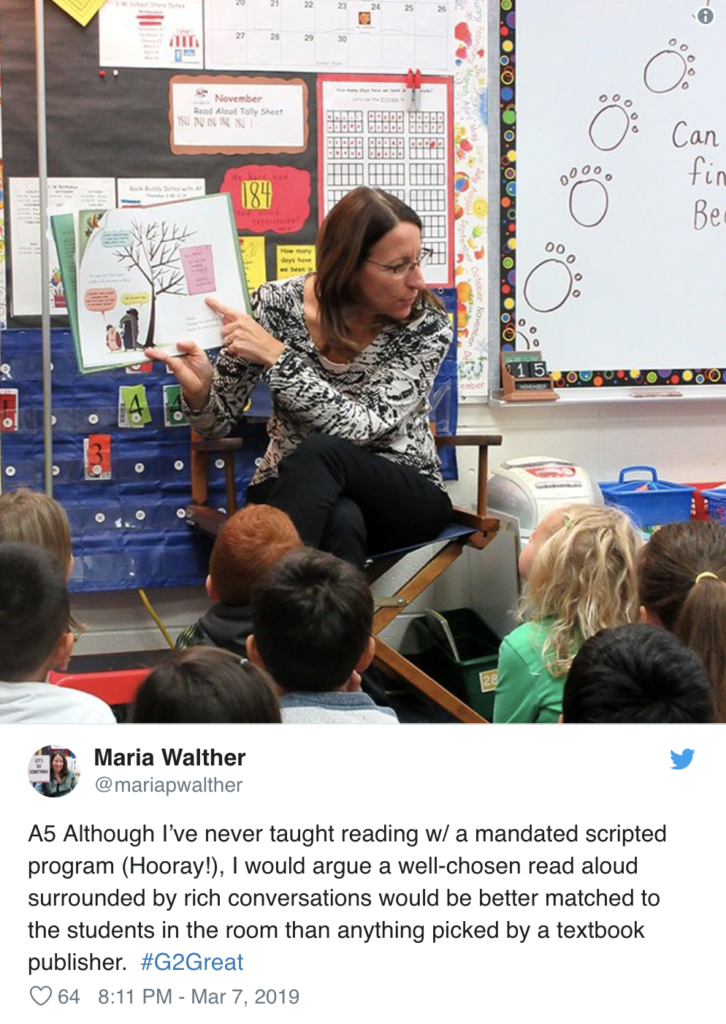 Ahh, the joy of Maria's carefully crafted words reminding us to walk along a path that is not riddled with thorns of compliant dissemination but one that is lined with "a well-chosen read aloud surrounded by rich conversations." And so we continue along a joyful read aloud journey through Maria's words.
What motivated you to write this book? What impact did you hope that it would have in the professional world?
In the 1980s, I stepped into Estelle Von Zellen's children's bookstore housed in the basement of her DeKalb, IL home. The first book I purchased for my classroom was The Napping House by Audrey and Don Wood. I love reading that book aloud to show children how Don Wood uses shifting perspective and changes in light to enhance Audrey's cumulative story. Since that day, I've been hooked on picture books and have spent my 33-year career reading them aloud to children. I'm fascinated by the artistic process of creating a picture book and believe that if we give children opportunities to notice and discuss books, we can enrich their reading and writing lives.
I was motivated to write this book to give busy teachers an inside look into picture books and the ways they promote thinking and conversations. For each of the 101 featured books, I share the insights I discovered while reading, rereading, and researching each book so that teachers, librarians, or caregivers can pass those tidbits on to young listeners.
I'm hoping that Ramped-Up will remind teachers (and their administrators), librarians, and perhaps some parents that read aloud experiences are a necessity for every child. I want this book to nudge them to carve out time every day to read aloud.
READ ALOUD = JOY! Reflection from Mary
Mission accomplished, Maria! Simply acknowledging that we value read aloud is not enough. To view read aloud through the lens of JOY requires us to give it a place of honor in every day as we refuse to allow both real and perceived outside demands to thwart our path forward. When we are so "hooked on picture books" that we can't let a single day go without reading them, we demonstrate joy through our actions as we keep read aloud at the center of our efforts on a daily basis. It is then and only then that this joy becomes so contagious that it spreads from child to child. Our gift to children of this shared book love will deepen with each new picture book we read aloud that follows where joy continues to grow across the learning year. On page 1 Maria shares an image of her read aloud tally so I was excited to see this tweet below. This visual reference illustrates a constant reminder that we do indeed champion read aloud not just by our words but by making a conscious choice to celebrate read aloud in the company of children day after day.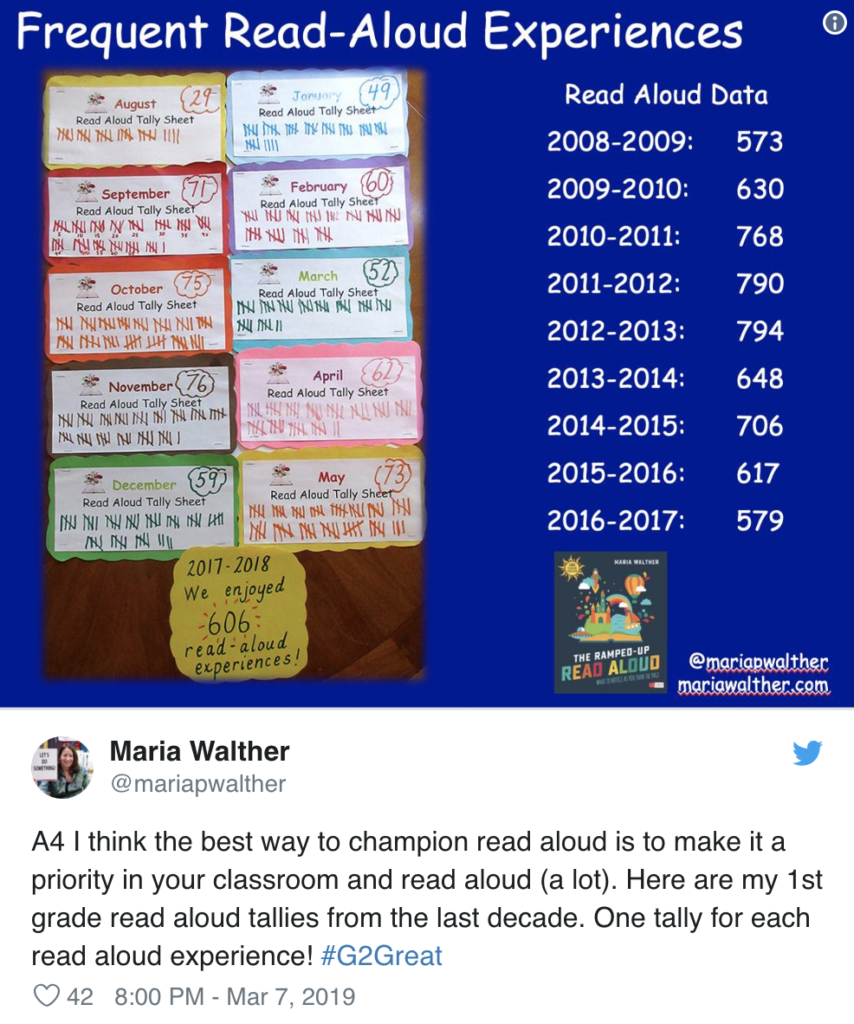 What are your BIG takeaways from your book that you hope teachers will embrace in their teaching practices?
Read Aloud=JOY. I want teachers to embrace joyful read aloud practices and add their favorite titles to the ones I've included in this book. I hope that they view read aloud as one of the many ways they can promote books and reading. I want them to spread the word that read aloud is the mainstay of a vibrant literacy community. During read aloud, I hope teacher notice that it only takes a few open-ended questions or invitations to question, think, or notice in order to surround read aloud with rich conversations.
READ ALOUD = JOY! Reflection from Mary
There's that phrase I have come to love followed by her desire that teachers will 'embrace joyful read aloud'. Maria is a master "noticer" of what authors and illustrators do to bring the picture book experience to life and how this artistic process can inform our read aloud choices. Maria shares her thoughtful insights with us through 101 picture book conversations in two-page spreads of joyful possibilities that offer a stepping stone for breathing new life into the read aloud experience. In an age where scripted read alouds suck the very life force out of beautiful books, Maria's flexible open-ended insights offer a gentle nudge that invite teachers to enter the book experience as a thoughtful read aloud decision-maker. She shows us options to draw from but then respects our choices as we view books from our own insightful lens as we too become master noticers of any picture book.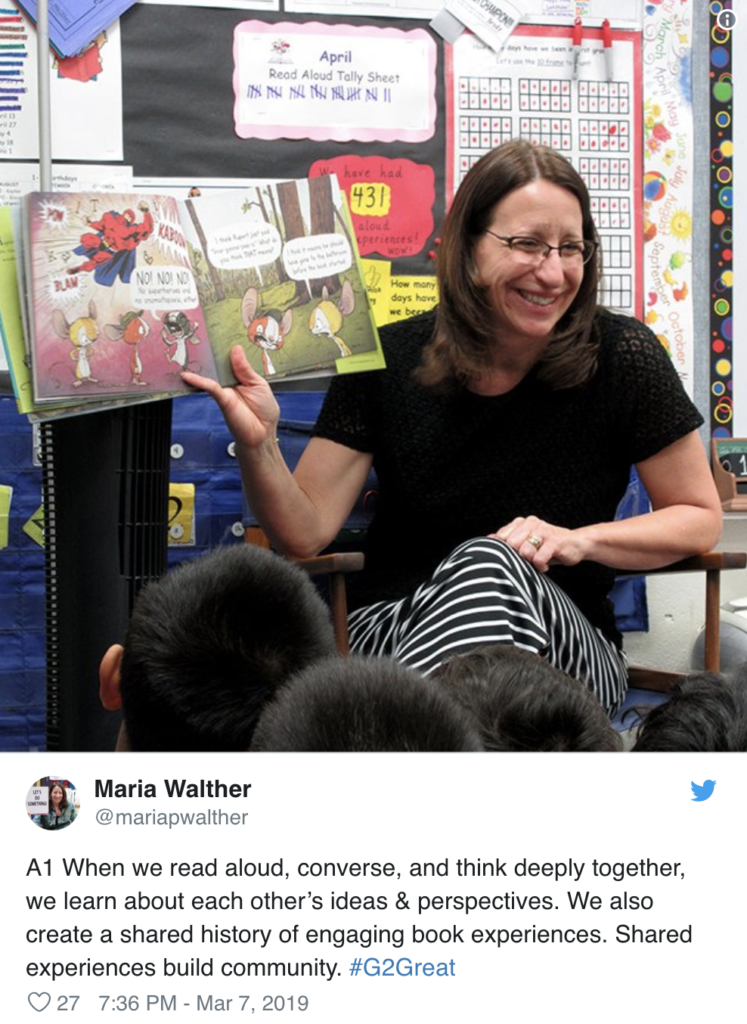 What is a message from the heart you would like for every teacher to keep in mind?
We have many children in our classrooms who, as my colleague Janet Mort says, are "unlucky in literacy." Perhaps they haven't snuggled on the lap of a caregiver and listened to stories read aloud or they don't live in a home filled with books and conversations. As educators, we have two paths we can take. We can choose to ignore this fact and march on with our instruction or we can embrace our roles as the "storygivers" and invite children to join us for one book, after another, after another . . .
READ ALOUD = JOY! Reflection from Mary
I doubt that there is a teacher reading these words who can't name children who have been "unlucky in literacy." Maria's response to this question is riddled in joy as she reminds us that the only way we can create a collective spirit of lucky in literacy opportunities is to savor our role as joyful "storygivers" who believe deeply in our responsibility to read aloud to every child. We want to join Maria in taking our rightful place as invitational picture book advocates from the first day of school to the last. I lost count of how many times I read and reread that paragraph where joy oozed from her words with each and every reread. How could any teacher read her words and falter in making a committed decision to choose the path to read aloud joy every time we sit in front of children and joyfully open the covers of a carefully chosen picture book? Imagine how this commitment could spread this lucky in literacy invitational culture that will embrace collective joy across our respective learning spaces. Isn't this what every child deserves?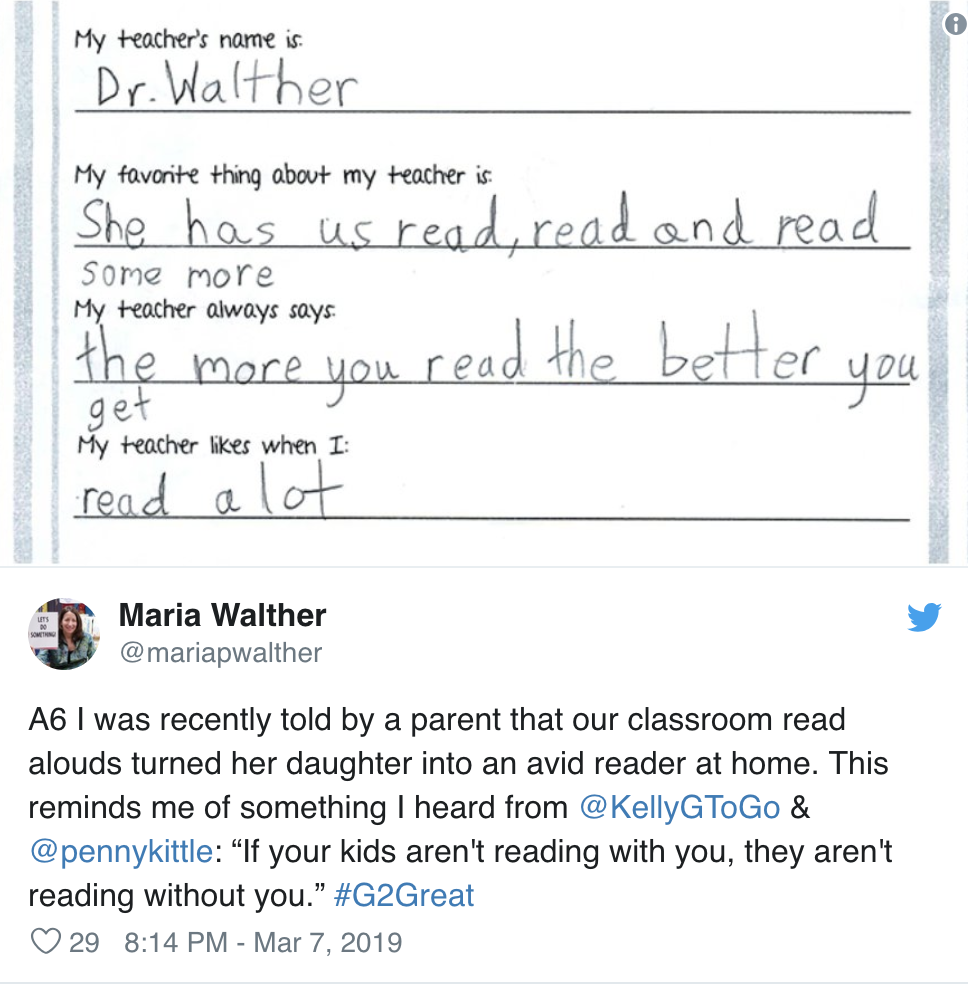 Mary's Final JOY Reflections
As I pause to reflect on Maria's repeated message of READ ALOUD = JOY! I challenge each of you to take our shared words in this post, read her book for the first time or yet again, and then soak in the wisdom of every tweet in our #G2Great chat. Then step into your learning spaces with children hopefully surrounding you, open your chosen picture book, and watch read aloud joy reverberate across the room again and again.
Thank you for reminding us of the power of picture books to awaken read aloud magic in each learning day, Maria. We are so honored to stand beside you as picture book joy ambassadors.
LINKS
Picture books Mentioned Across Our #G2great Chat