by Mary Howard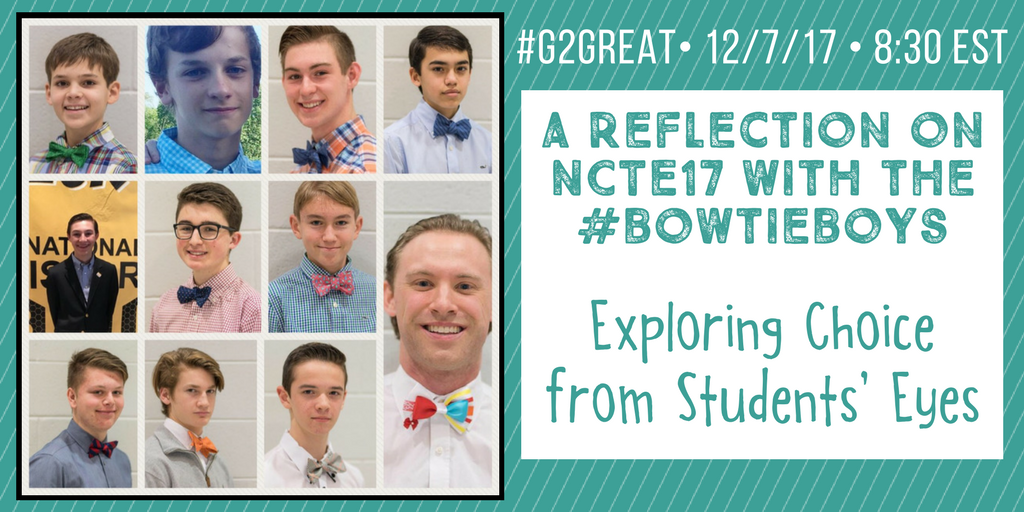 On December 7, 2017, old friends honored us with a return visit to the #G2great guest host chair. #BowTieBoys with teacher Jason Augustowski have joined us on three other occasions including May 25, 2017, March 16, 2017 and June 9, 2016 (our first guest #BowTieBoy, Sam Fremin). This week we were excited to celebrate NCTE17 as we explored Student Choice from their very wise eyes. I consider myself the self appointed #BowTieBoy cheerleader – or as Lester Laminack lovingly dubbed me on facebook: "official Fairy Godmother of the #BowTieBoys." The  pleasure is all mine!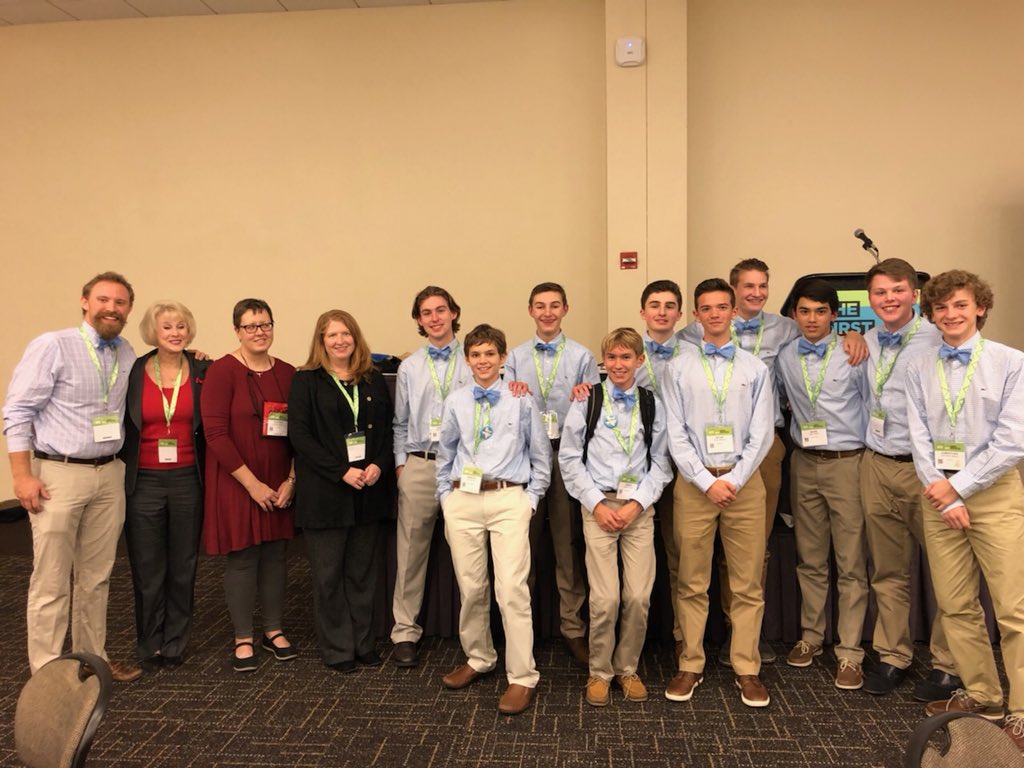 I first met #BowTieBoys when I saw them present at NCTE 2015 and was instantly professionally smitten. I was grateful to join their #NCTE 2017 presentation and watched with pride as they rotated from table to table sharing their collective commitment to student choice. These young men in high school possess wisdom far beyond their years and have the uncanny ability to translate that wisdom in ways that could maximize our instructional  efforts if we are only willing to listen to their oh so sage advice.  It is worth emphasizing that each of our #G2Great questions was posed by #BowTieBoys based on their interests and that they literally took over the #G2Great chat reins just as they have each time they visit.
Since every question was related to our topic of student choice, I decided to peruse tweets to see if some patterns would begin to emerge within and across those questions. This proved to be quite challenging since there were well over one hundred tweets from the #BowTieBoys alone. As I explored this magnitude of student wisdom, eight essential ideas soon became visible that celebrate student choice from their perspective. Each Choice Point includes my reflections followed by #BowTieBoys words of wisdom:
CHOICE POINT #1: Building a Foundation of Trusting Relationships
One of the first things I noticed as I looked back across the chat was the repeated use of the words trust and relationship. In fact, the very spirit of the chat was grounded in a deep respect for both the learning and teaching process. Jason, Sam and Ryan H help us see those ideas from both sides and how relationships or the lack of them can either impede learning or help students to "flourish." Learning depends on our willingness to build this foundation of positive relationships between students and teachers from the first day of school. But this is only possible when we know our learners enough to craft the instructional experiences that demonstrate that we have their best interest as learners at heart.
CHOICE POINT #2:  Designing Spaces that Honor Learners
Another common discussion point that was interwoven across all questions was the importance of creating a classroom design that could support and nurture choice. Jason and Christian remind us that this is a shared process that engages student and teacher as design partners (which reiterates the spirit of respect in the first point). Kellen added to this conversation by emphasizing that this can prove challenging for students who may not have previously experienced a flexible design mindset. We could at least in part address this concern by giving students a shared role in this process while recognizing that some students may need additional support along the way.
CHOICE POINT #3: Exploring a Healthy Balance for Choice
Perhaps the question that elicited the greatest range of varied view was the one that asked us to consider if it is possible to have too much choice. Ryan B and Ryan H reflect this variety since Ryan B felt that this is largely dependent upon individual students while Ryan H felt that choice should be a component of every learning experience. One of the things I particularly appreciate about these varying viewpoints is that both agreed that they personally needed no boundaries even though there was variation in what they feel other students may need.  What struck me about these distinctive perspectives is that it illustrates why we need to know students and then make these decisions accordingly.
CHOICE POINT #4: Making Real World Experiences a Priority
Jack, Sam and Sean noted the value of creating an instructional experience that will help learners move beyond our four walls as we expand our horizon by embracing real world concerns and issues. While there are certainly professional constraints that we must adhere to, this does not mean that any teacher is forced to turn a blind eye to the very issues that students will be facing in their own lives once they leave those walls. This is not a either-or proposition but an issue of refusing to allow obligations to cloud our view of responsibility to our learners. It can also reflect a two pronged issue since it requires teachers and students to explore topics that may even be uncomfortable while maintaining enough choice for students to navigate those topics in creative ways.



CHOICE POINT #5: Inviting Conversation and Collaboration
When we discuss choice within the instructional process it will inevitable require us to consider where meaningful dialogue with peers can fits into this process. Any time we reflect on empowering our learners within the learning process we must also consider how we will create an instructional framework where student talk is at the center of that process. Ryan B and Sean remind us that choice also plays a role in the collaborative process as we can offer different ways for students to collaborate based both on the partnerships as well as the structure of those partnerships. It is important to consider distinctive possibilities including partners and small groups and to ensure that these partnerships change over time.
CHOICE POINT #6: Finding a Space for Shared Ownership
As we acknowledge the important role that choice can play in an engaging instructional environment, we must also examine how we will help students assume increasing responsibility for this role and what this could look like in an instructional setting. This is not simply a matter of the teacher saying, "I'm going to offer choice" but considering choice in much deeper ways. This will require us to maintain the flexibility that will leave room to support students in a variety of ways as we put choice into action and likely make adjustments as we make choice a priority. Christian and Spencer explore both sides of this issue by highlighting this supportive process as well as allowing for that flexibility within those choices.
CHOICE POINT #7: Broadening Our Authentic Assessment View
It would be challenging to even consider the role of choice without considering where this fits from an assessment perspective so I was grateful this question was addressed. Doug emphasized that choice can be connected to the assessment process as we allow students to show what they have learned in a unique ways. Spencer tackled a common concern teachers express about the challenge of applying grades to authentic learning by suggesting that we shift our perception. If we started with the authentic task that we want to celebrate, then we could design assessments around this lofty end goal as a logical way to ensure that both are in place.

CHOICE POINT #8: Celebrating Joyful Engagement in Learning
It seems to me that joyful engagement is the undergirder of the entire discussion about choice. Incorporating student choice is not merely done for the sake of choice but to consider the implications of this decision. By making choice a priority, we are acknowledging that there is no virtue to merely asking students to sit at a table to be filled with information. Choice reflects our commitment to learning opportunities that actively and pleasurably engage our students with their own learning. Doug, Jack, and Kellen illustrate why incorporating choice is so relevant in that we want to create instructional experiences where students are active participants in productive learning that will also take their unique needs and interests into consideration. Engagement and joy go hand in hand as one has the potential to dramatically impact the other for better or worse. Quite frankly, we need both.
I was astounded by the wisdom of these young men as they shared their thinking at twitter style warp speed. I am so grateful to have the storify record to revisit again and again so that we can soak in their insight. What I found particularly exciting is that their tweets not only represented their own thinking, but also reflected their willingness to engage in conversations with our #G2Great family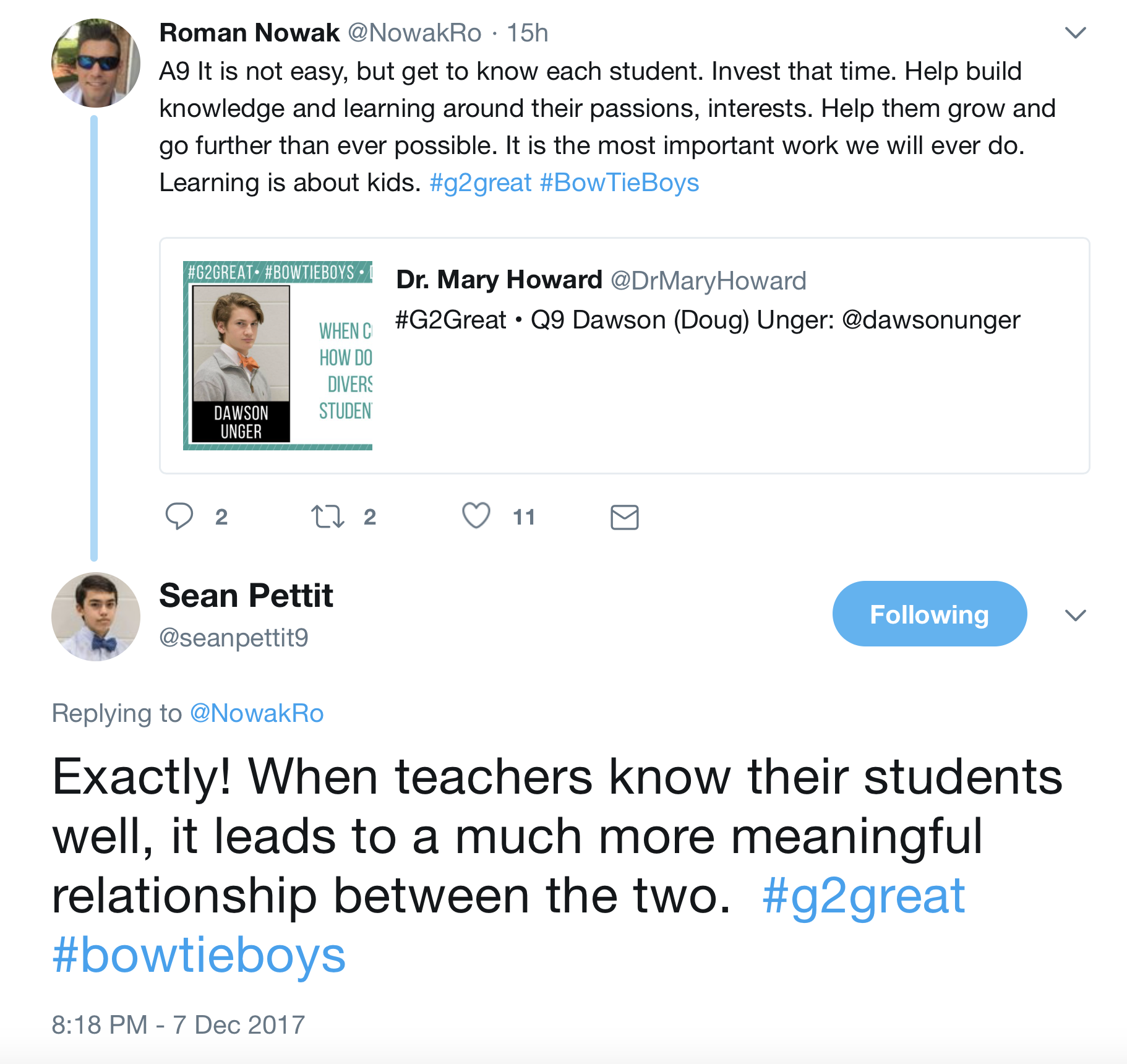 With each other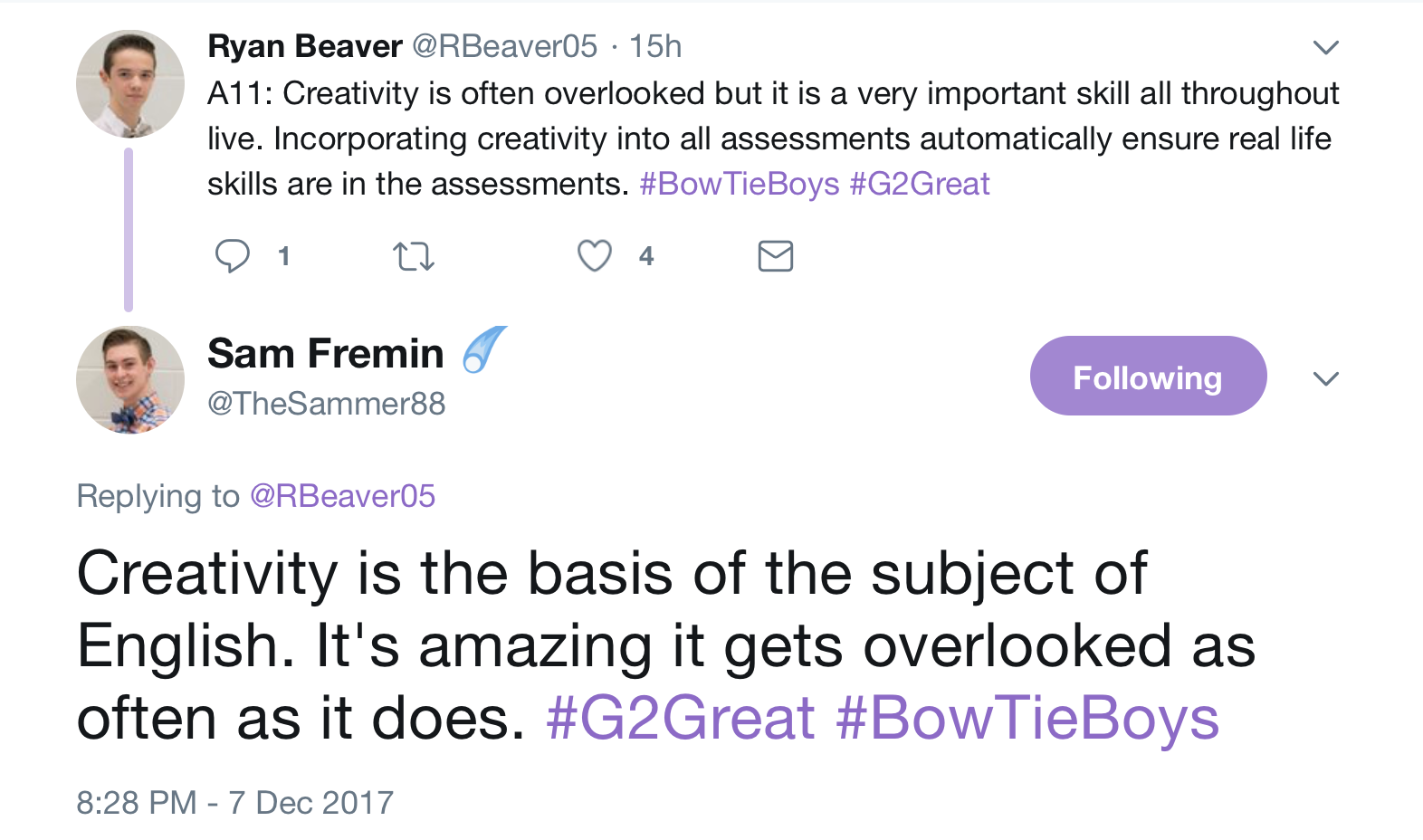 And through their own posing of questions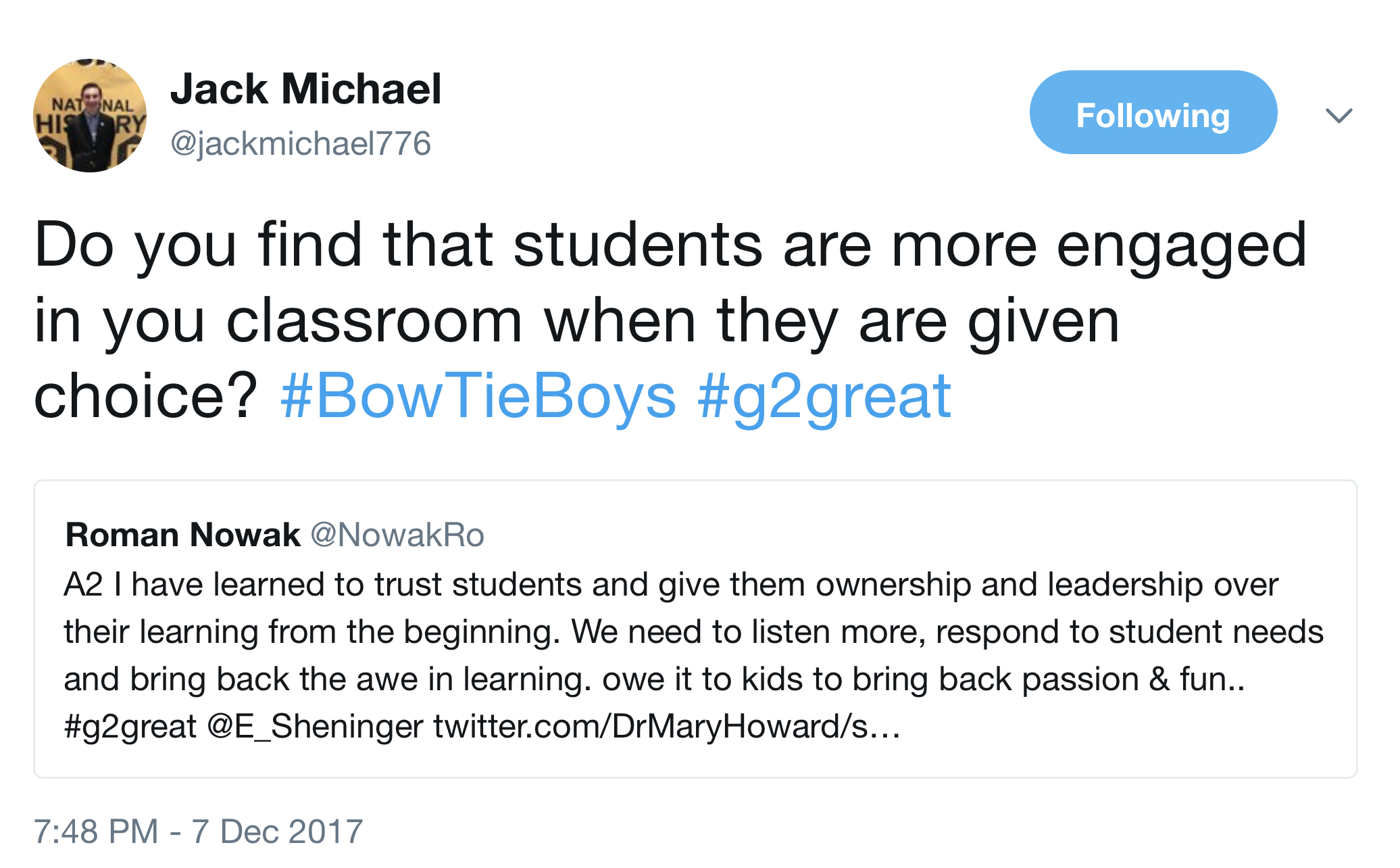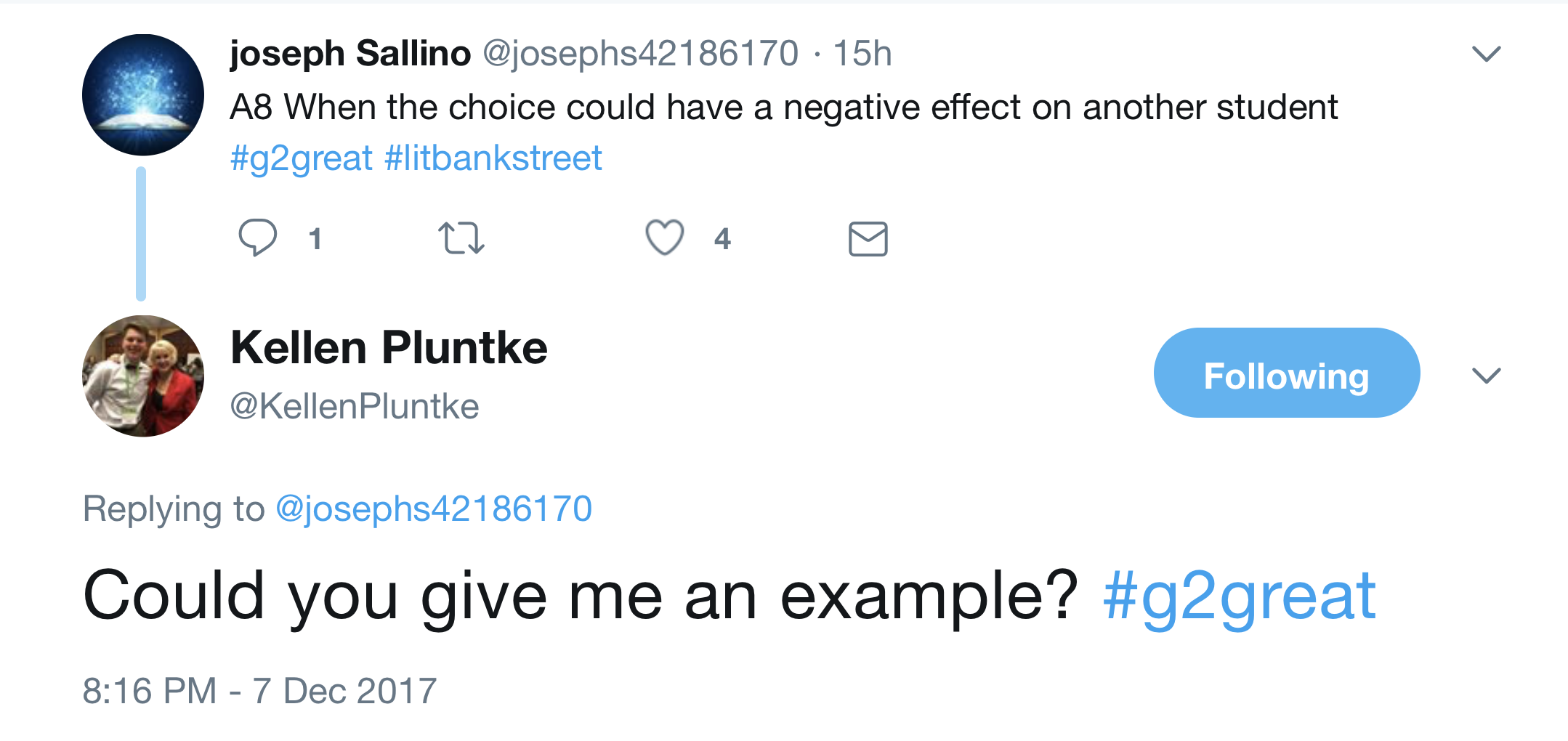 #BowTieBoys have given each of us who are lucky enough to learn from them such an incredible gift and it is my hope that we will open this discussion to students in classrooms across the country. Their passion for learning and willingness to share their thinking offers us a lens to see our teaching from their eyes. We have long known that choice can play a powerful role in the learning process and yet this role is largely ignored in too many classrooms. They remind us that student choice is not just a topic to be discussed but an issue that must also consider the human factor as we envision what this means for our own learners. We are so honored that they invited us all into their world through their generous sharing and graced the #G2Great stage once again.
And so as I close, the question that comes into my mind is, "Why isn't choice a high priority goal in every classroom? Sam helps us to ponder the importance of this question
Imagine if you will a classroom where we break free of the box that is confining teachers and students from exploring opportunities that abound. Imagine what would be possible if we were willing to gaze through a two-way reflective mirror and see the instructional process not only through our own eyes but through the eyes of our students.
In the words of Dr. Seuss, Oh the places we could go!"
See #BowTieBoys engaging in the Twitter Chat they led!
Please follow the #BowTieBoys on Twitter:
Teacher, Jason Augustowski @MisterAMisterA
Dawson (Doug) Unger: @dawsonunger
Joe O'Such: @Joe_Osuch
Spencer Hill – @spencerrhill99
Sean Pettit: @seanpettit9
Sam Fremin @TheSammer88
Ryan Hur @RyanHur09
Jack Michael @jackmichael776
Ryan Beaver @RBeaver05
Christian Sporre @CSporre
Kellen Pluntke @kellenpluntke
#G2Great with #BowTieBoys • 12:17:17 (with images, tweets) · DrMaryHoward · Storify