by Amy Brennan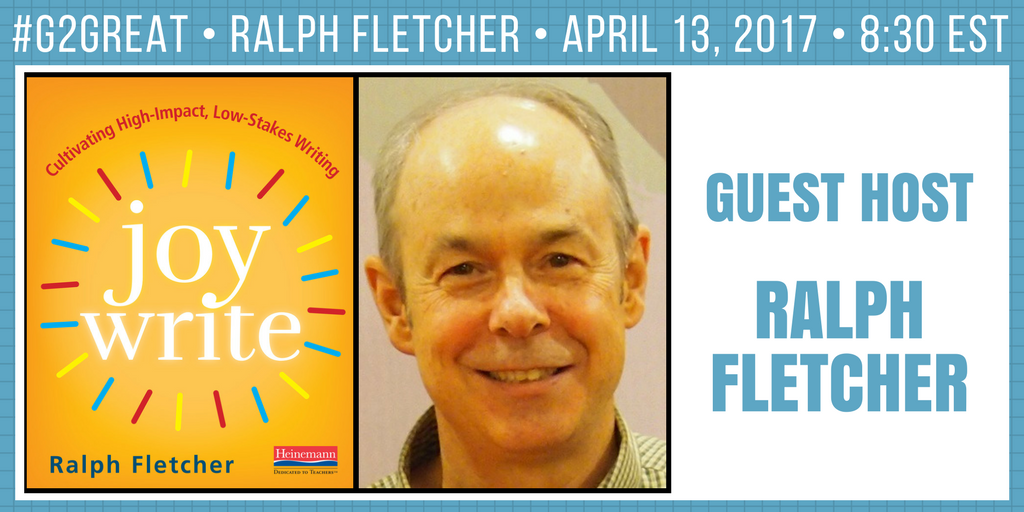 On April 13, 2017 #G2Great welcomed Ralph Fletcher as a guest host to share ideas from his newest book, Joy Write: Cultivating High-Impact, Low-Stakes Writing. In his book, Ralph invites us to take on what I believe to be the most important lens when it comes to writing. Ralph guides us by suggesting, "We must strive to see the writing curriculum through their eyes, as they experience it, from their points of view." All too often we view the teaching of writing through our own perspective, making instructional decisions through that lens. If we stop and switch the lens to view the learning environment from our students' eyes we can clearly see the essentials that lead to real growth in writing. Student-centered classrooms where students have autonomy and choice in writing open up opportunities for students to write about what is personal to them and the topics or issues that they are passionate about.
We began the chat with a discussion around critical characteristics of a student-centered writing classroom. Ralph reminded us of the importance of low stakes writing, and when you have the lens of the student, you realize how critically important it is to have students engage in writing in an environment where students do not feel high stakes pressure. They need to feel safe to take the risks that a writer takes as they play with language and grow their writing. Providing students with choice and time in order to engage in writing connected to their passions and interests creates the environment where students will experience the most growth.
When Ralph led us through a discussion around choice, he pointed out so many aspects of choice in writing that extend beyond the just choice of topic. Check out his tweets below and be inspired to create ways in your classroom to open up opportunities for increased autonomy.
I am especially intrigued by Ralph's idea of inserting open cycles of writing in between our units of study. These open cycles provide students with a wider option of choice than what we generally allow and are beyond the topic choice. There is value to working in a shared unit of study, as a community studying a particular type of writing and learning together, however there is something so simple and appealing about dropping in an open-cycle between units. In this open cycle students choose topic, genre, audience and really everything in the writing process. Ralph urges us to see this is truly the way writers grow. Below you can see some of Ralph's tweets on this topic and you can think a little bit more about why and how you might institute open cycles in your classroom.   
Stating with your core values, sustained writing – everyday. This essential ingredient is the one we must hold closest to us and never stray from. The time we dedicate to writing provides the time for students to engage in the writing process and grow as writers. Ralph tweeted that everything else after this is negotiable. This tweet really helped to send the message home. In this new book you will want to learn more about his new idea of "greenbelt writing," a type of informal writing that is raw, unmanicured and uncurated. It is through this writing environment that Ralph shows us that students can demonstrate not only tremendous, but JOY in writing.
Ralph Fletcher Links
Joy Write (Heinemann)
http://www.heinemann.com/products/E08880.aspx
The Heinemann Podcast: Ralph Fletcher on The Writing Workshop
http://www.heinemann.com/blog/heinemann-podcast-writing-workshop/
The Heinemann Podcast: Joy Write with Ralph Fletcher
http://www.heinemann.com/blog/heinemann-podcast-joy-write-ralph-fletcher/
The Writer's Desk: Ralph's Blog