by Mary Howard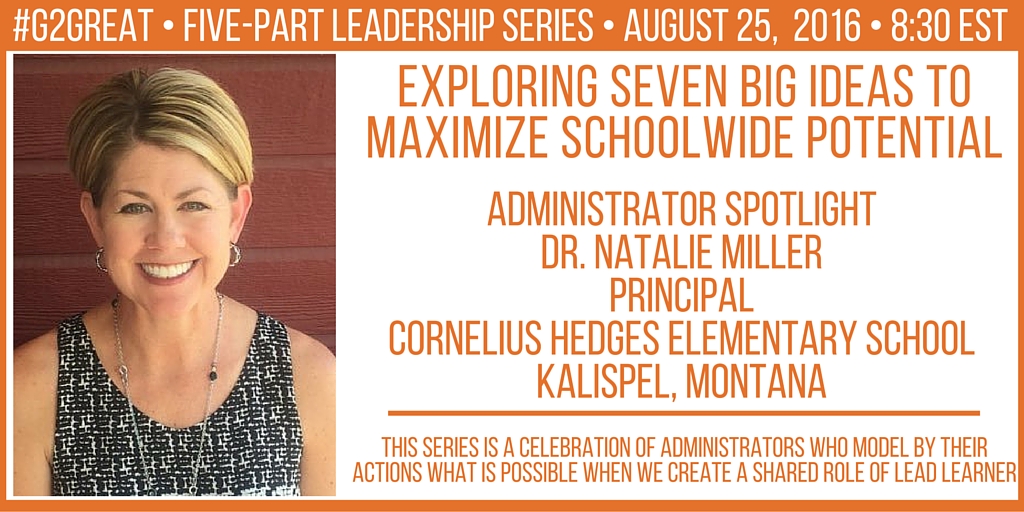 On August 25, 2016 #G2Great continued our five-part leadership series, Exploring Seven Big Ideas to Maximize Schoolwide Potential. This week guest host Natalie Miller, principal of Cornelius Hedges Elementary in Kalispell, MT, deepened our "celebration of administrators who model by their actions what is possible when they make the shift to lead learner."

Over the past four weeks, I have thought about this celebration of possible through the eyes of four remarkable administrators: Seth Berg, Matt Renwick, Tony Sinanis and Natalie Miller. As I reflect on their collective impact, I feel an overwhelming sense of gratitude for their vision of administrators as lead learner. Yet my joy is hampered by the stark realization that their vision for what is possible is not the norm in every school. That concern drew my attention back to a quote we tweeted during our chat: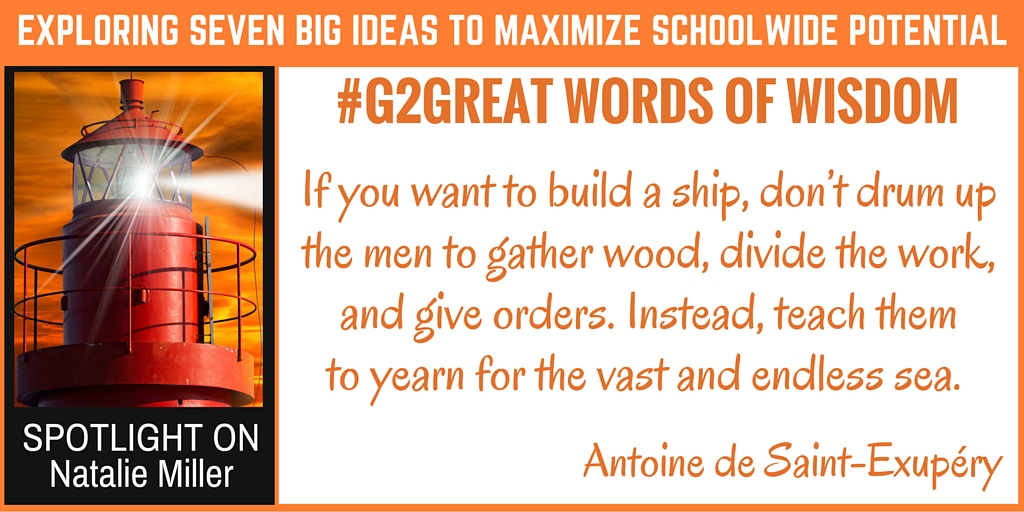 This quote replayed in my mind as Natalie breathed new meaning into those words, elevating my desire for lead learner magic in every school. Administrators who inspire teachers "to yearn for the vast and endless sea" help us to envision leadership from the heart. With this in mind, I posed a singular guiding question to move us closer to that celebration of possible: WHAT IF?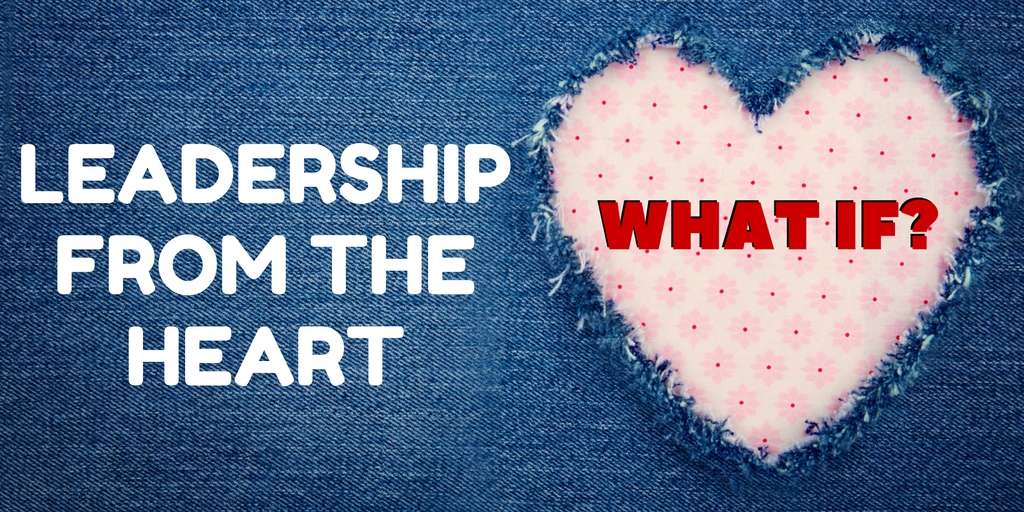 And so as I look back on Natalie's chat from a mindset of leadership from the heart, her words inspired me to ponder seven goals that I am hopeful can spark other schools to embrace a lead learner role through a lens of WHAT IF?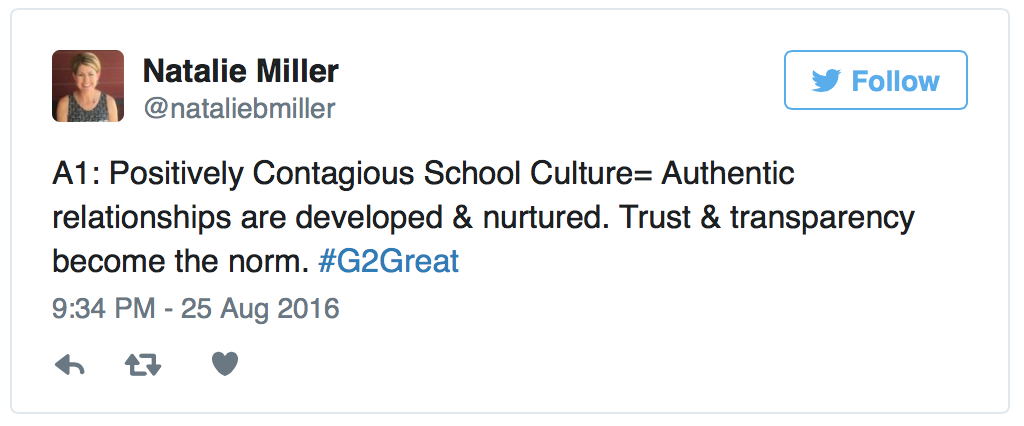 WHAT IF every administrator created a "positively contagious school culture?"
The word "relationship" has come up repeatedly in our series, and Natalie's words champion this message as well. If we have any hope of creating schools where leadership from the heart is a reality, a positively contagious school culture must be our focus. Cornelius Hedges Elementary modeled these words when Natalie's teachers enthusiastically surrounded her during the chat in joyful celebration of their lead learner. This mutual respect does not happen by chance but when lead learners are committed to intentionally nurture relationships that promote this positively contagious culture.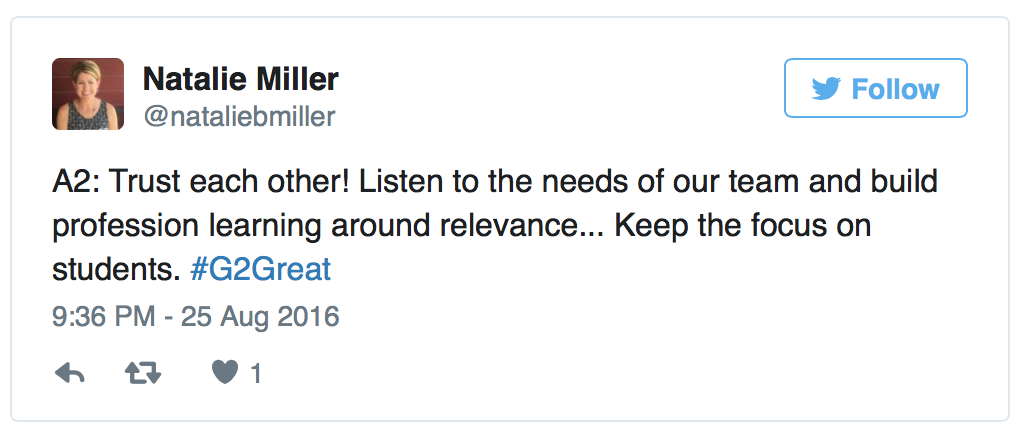 WHAT IF every administrator made decisions that "keep the focus on students?"
A positively contagious culture grounded in meaningful relationships allows us to shift our focus so that we can keep our eyes on the real prize –students. Our lead learners join forces with their staff to work toward a common vision that keeps students at the center of every effort. This is achieved through relevant professional learning experiences motivated by educators' desire to know their students well for it is this knowledge that keeps students at the center on a day-to-day and teacher-to-teacher basis.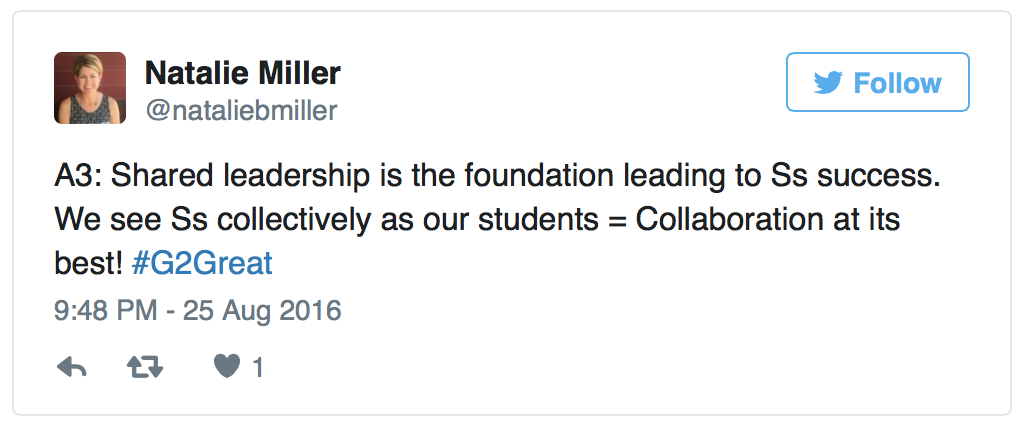 WHAT IF every administrator viewed "shared leadership as the foundation for success?"
Once we have acknowledged student success as our ultimate goal, we can open the door to shared leadership in this spirit. This is not about compliance or doling out boxed programs and the STUFF that reflects lack of faith in knowledgeable teachers. Lead learners embrace a shared role that holds professional responsibility in high regard. Lead learners encourage their teachers to use understandings of literacy and children to guide decision-making as resources become flexible tools that honor responsive teaching. Lead learners bravely relinquish reigns of control so that they can make room for informed instructional choices.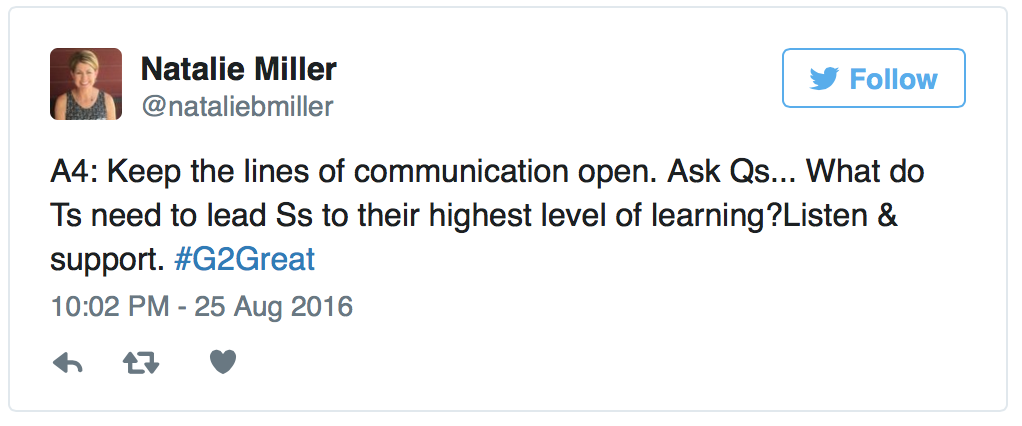 WHAT IF every administrator welcomed conversations to "lead students to their highest levels of learning?"
When respectful communication and collaboration in a positive learning environment where students are the priority defines a school, it is evident the moment you walk through the front door. One of the hallmarks of successful schools where lead learners are at the helm is the deep belief in conversations that will engage teachers in generating questions fueled by their curiosity about students and steadfast commitment to lead them to the highest levels of learning. These high expectations are afforded every child because educators refuse to allow preconceptions spurred by labels and irrelevant or trivial data to blur their view.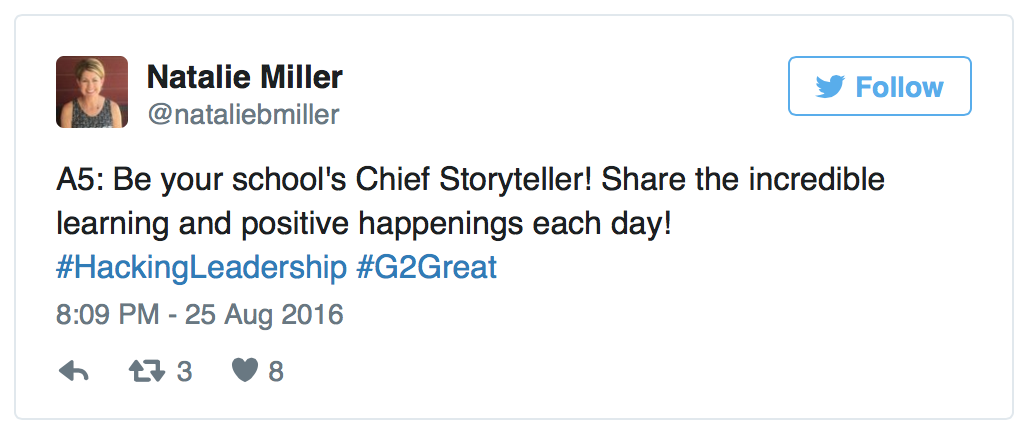 WHAT IF every administrator celebrated their role as the school's "Chief Storyteller?"
Schools that keep students at the center are proud of their collective efforts and willing to share their success stories with anyone who will listen. Lead learners not only pave the way for these celebrations, but encourage teachers and even students to become fellow storytellers. Social media offers a rich platform to instill a sense of pride in our work as we share with educators far and wide. In doing so, we commemorate our hard work driven by an unwavering passion to make each day the best possible learning day for the students who inspire that hard work and move us to share our collective story.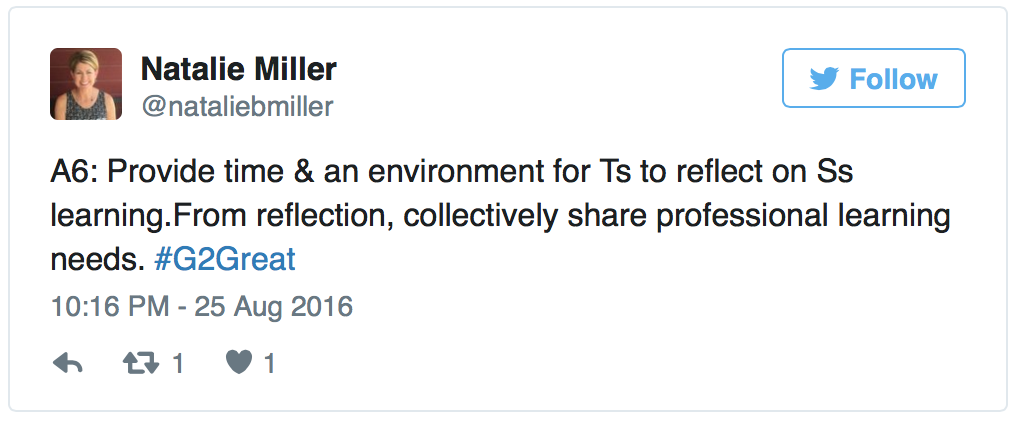 WHAT IF every administrator created an environment "for teachers to reflect on student learning?"
Research has long supported reflection as a powerful impetus to change. Effective teachers do not view the teaching experience as the end goal but as a way to closely examine their practices for the purpose of elevating those practices in the future. Lead learners encourage this professional introspection and offer time for teachers to share those reflections and use this shared discourse as a springboard to new thinking. Collegial collaborations allow teachers to analyze practices as they verbalize their thinking with others to take a renewed look at those practices from multiple perspectives.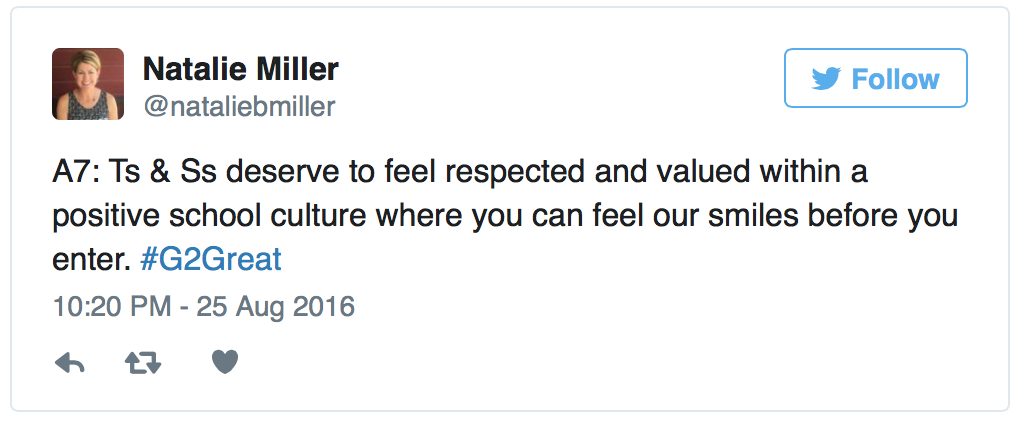 WHAT IF every administrator demonstrates respect for all so "you can feel our smiles before you enter?"
And so we return to the "positively contagious school culture" that initiated our journey to WHAT IF. The culture Cornelius Hedges Elementary has created "where you can feel our smiles before you enter" stayed with me long after the chat ended. This is the very spirit of leadership from the heart enriched by administrators with the courage to make the transformation to lead learner. And that my friends, is where the magic lives, not only in schools where lead learners like Seth, Matt, Tony, and Natalie reside – but in schools across the country where possible could thrive if we change our view of what is means to be a 'leader.'
In closing, there is no doubt in my mind that leadership from the heart where lead learners inspire teachers "to yearn for the vast and endless sea" is achievable because we have seen it in action over the past four weeks of our series. And if every school administrator was committed to becoming a lead learner in a celebration of possible through WHAT IF?…
Well in the words of Dr. Seuss, "Oh the places we could go!"
Special thank you to Natalie Miller and the wonderful staff of Cornelius Hedges Elementary supported by Instructional Coach Dani Burtsfield for celebrating your possible with us and to each of our incredible #G2Great chatters who inspire us with their dedicated enthusiasm week after week!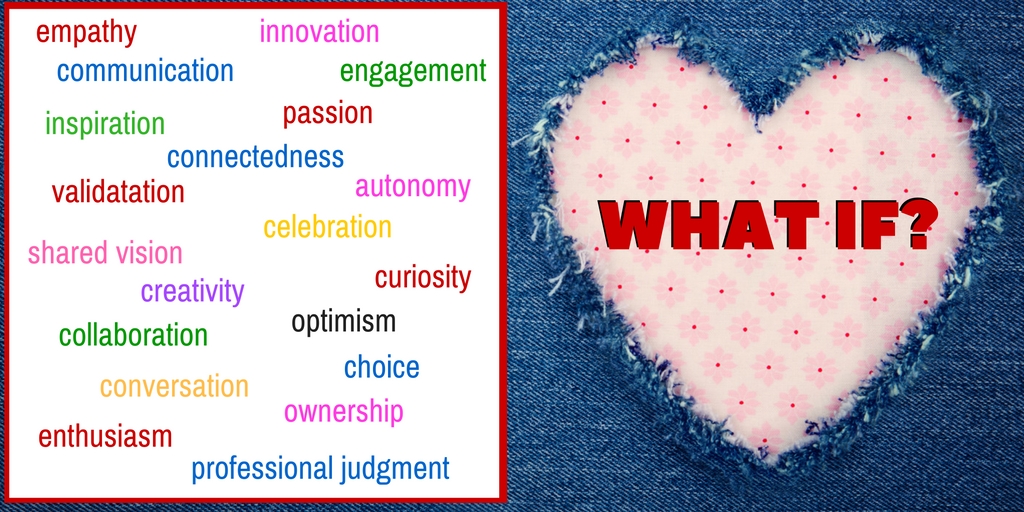 Five ways to connect with Natalie:
Twitter @nataliebmiller
Blog nataliebmiller.wordpress.com
Facebook: Facebook.com/CorneliusHedgesElementary/
School website: sd5.k12.mt.us/4/home
Instagram: instagram.com/hedgeshornets