Guest Blog post by Erica Pecorale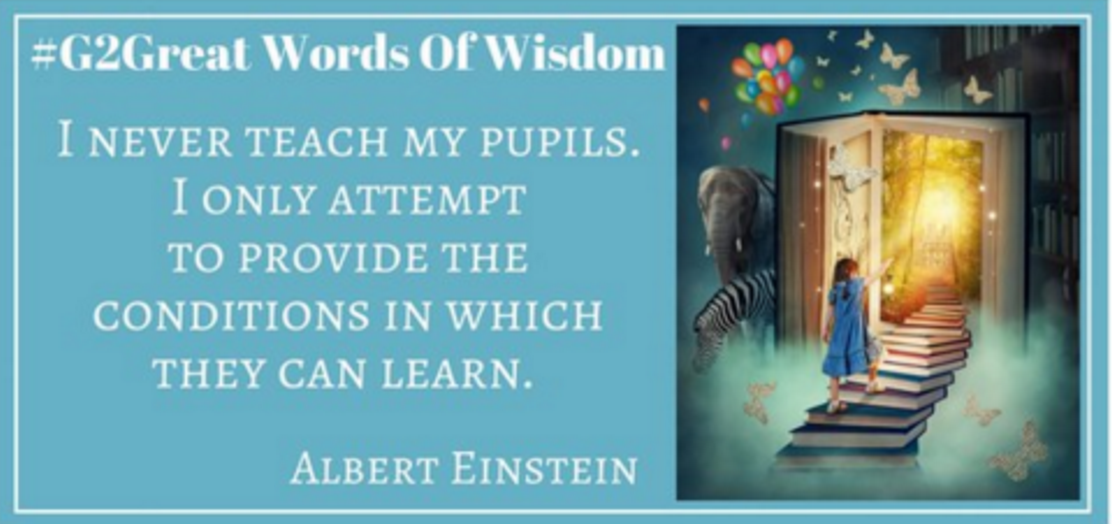 How do teachers get to the most meaningful work in their classrooms every day? When we answer this question, all students thrive in an environment that is engaging and that promotes responsibility within all members of the learning community.
On January 21, 2016 #G2Great chat focused on creating nurturing learning environments. In Chapter 4 of Good to Great, Mary Howard reflects on what highly effective teachers do. She echoes Ellin Keene, who notes that these teachers are extremely focused in "acknowledging that excellence in classrooms is a never ending process of professional learning". Mary elaborates on how highly effective teachers learn from research by synthesizing ideas into practices that meet the needs and experiences of their current students. When teachers integrate what they know about their students with what they have learned about best practices and the research they have examined, it comes together to create organic and authentic spaces for all students to flourish and to get to the work that really matters.
On a recent visit to a second grade classroom's literacy block, I noticed a behavior system being utilized that I have seen in many other rooms. Each time the students transitioned into a new activity, the teacher gave out little green stickers to each child, which were then taken by students to a wall chart where they waited in a line to place their sticker next to their name. Each transition took six minutes!
When debriefing afterward, the teacher made a point of saying how well behaved her class is this year. In fact, we discussed how the only time there were even the slightest bit of behavior problems was when the stickers were being handed out and children were awaiting the completion of this process. She wondered aloud that perhaps the reason they behaved so wonderfully was because of the stickers. We reflected together on it again. We decided that perhaps these students don't need this kind of monitoring. The only time they were disengaged, seemed bored or started interacting negatively with one another was when the stickers were being distributed. After some discussion, the teacher realized her students didn't really need this system. However, they were required to have a behavior modification system in place in every classroom.
When initiatives are mandated without allowing teachers time to deconstruct the purposes for putting them in place, systems are created that don't always make sense for the setting. When teachers are searching for ways to find more time for interactive read aloud, independent reading and writing, they do not need to be spending six minutes each time they transition to hand out tokens.
How do teachers find effective ways for students to feel engaged with their learning without compromising the ideals about what it means to be an integral part of a community? Rather than teaching students about what material objects they will get for behaving, we must model, discuss and promote what we each bring to our classroom environment.  We do this by preserving the precious limited time we have by focusing on the work that really matters.  
For more thoughts on this topic please see Trevor Bryan's post about awards and sharing at   http://fouroclockfaculty.com/2016/01/awards-vs-sharing/
Erica Pecorale is a literacy educator, coach and consultant to school districts on Long Island. She is the Director of Teacher Education and is an Assistant Professor at Long Island University at Riverhead.