by Mary Howard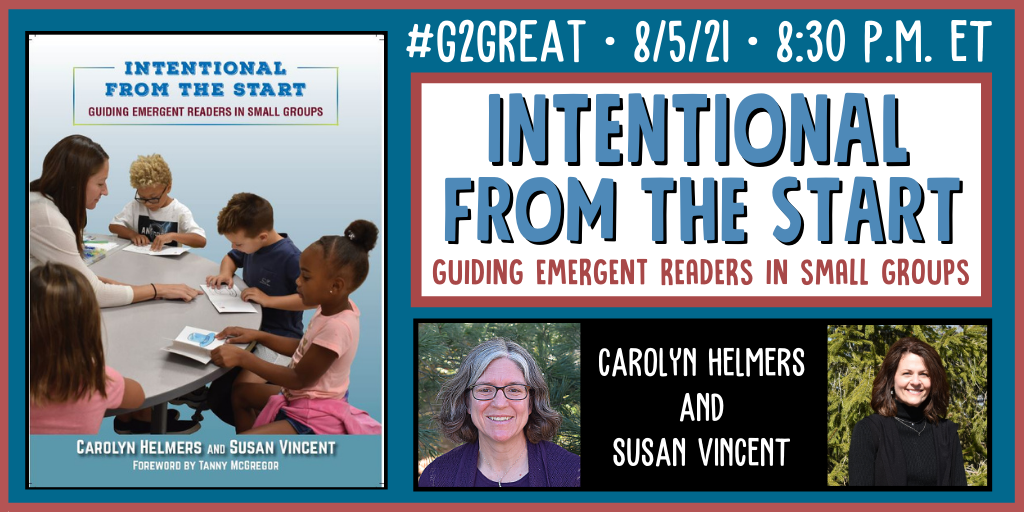 On 8/5/21, we were honored to be joined by first-time #G2Great guest hosts Carolyn Helmers and Susan Vincent. The twitter style dialogue that quickly turned into joyful engagement was a clear sign that educators are as excited about their remarkable new book as we were as soon as we read Intentional from the Start: Guiding Emergent Readers in Small Groups (Stenhouse, 2021).
From the moment I opened the cover and began reading, the word "INTENTIONAL" loomed large across the pages. In their introduction, Carolyn and Susan describe their early efforts as "step-followers" of the small group WHAT with limited results. It was only when they embraced the WHY and HOW of small groups that these experiences were transformed into the in-the-moment decision making that was responsive to the children sitting in front of them. This is reflected in a quote we shared on #G2Great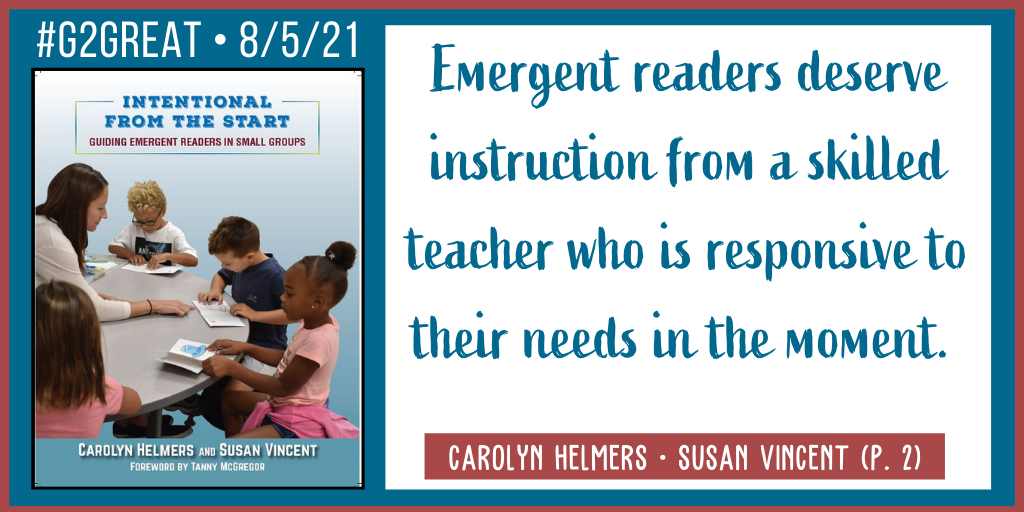 Since your #G2Great co moderators believe that there is great power in seeing a book through the eyes of the author/s, we ask three questions. Let's start with question one:
What motivated you to write this book? What impact did you hope that it would have in the professional world?
In our work with teachers, we recognized a need to better understand what children should learn in the earliest levels and how to teach those skills most effectively. We hoped to bring greater clarity to issues such as:
how to understand what to look for in early-level books and appreciate the fine gradient between levels. Do teachers really know the difference between an A and a B? Do they know why a child might need a C rather than a B?
how to evaluate books using multiple criteria. Do teachers know how to evaluate a book's support of early print concepts? Do they really know what to look for in terms of font, spacing, print placement, word choice, etc… for each of the early levels? Are they selective about choosing books that have engaging topics, characters, and stories? Do they evaluate their guided reading books in early levels with a critical eye for representation, just as they do their read alouds? Are diverse characters and families represented?
What struck me personally as I read Intentional from the Start was several reasons that this book represents a much-needed missing professional resource:
First, although there are many books on small group reading, few address the unique needs of emergent readers as Intentional does so passionately. Their thoughtful attention to student-centered decision making will support early learners and those who teach them as we begin to see powerful shifts in small group instruction that our youngest readers do indeed deserve.
A second reason is also illustrated in one of the book quotes we shared during the chat. There has been much criticism about the use of leveled texts, particularly at the early stages. Carolyn and Susan wisely move our thinking beyond the surface level features that motivate these criticisms and refocus our attention on the sophisticated text crafting designed to promote a complex reading experience.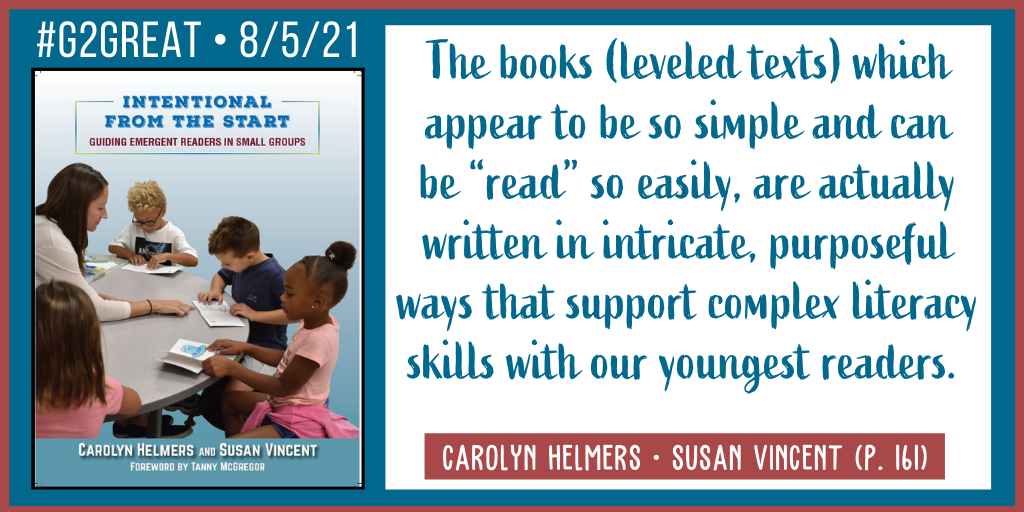 The third critical reason this book is needed is illustrated in a book quote that opened our chat. The often contentious banter around phonics in recent years has led to unfounded criticism of small group instruction in general. There has been a growing push for isolated phonics as meaning has taken a back seat. Carolyn and Susan show us how meaning and decoding can work in support of each other. They back up this thinking by giving us countless ways to merge meaning and decoding into a rich process of emergent reading in action.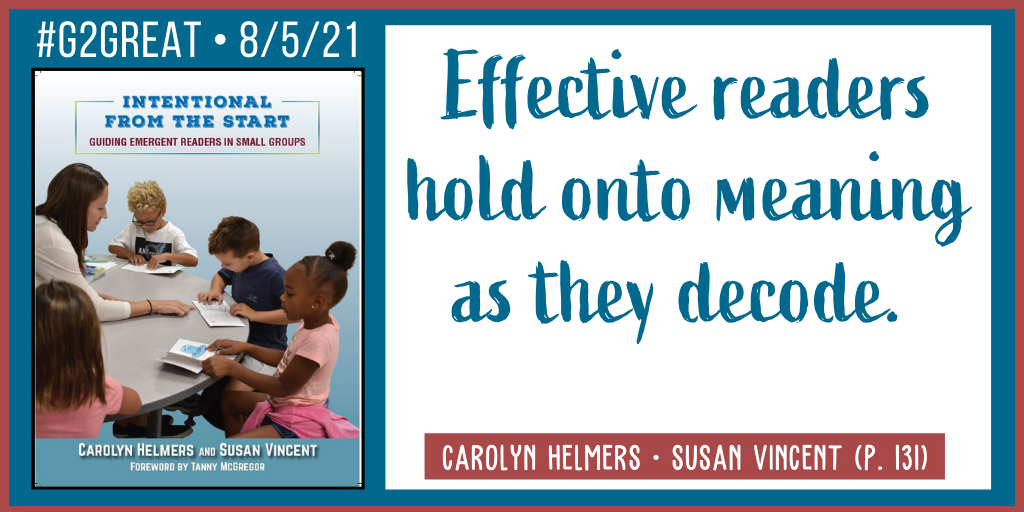 During the chat, Susan and Carolyn helped us to understand two supportive but also distinct ways that we address phonics within and beyond small groups as we consider our purpose. I love the way they reinforced the same idea in different ways while they also emphasized the importance of being responsive to the unique needs of those children in the small group. While we may follow a scope and sequence in whole class learning, our small group instruction allows us to zoom in on the learning they need at that time so that we may reinforce whole class learning while we offer opportunities to apply learning that is most applicable within the context of meaningful print.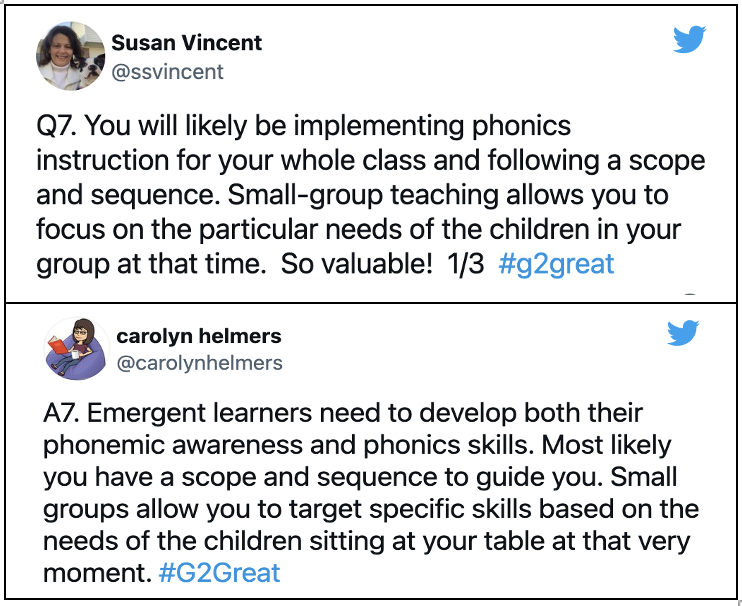 Inspired by these tweets, I'd like to linger in more Susan and Carolyn combined twitter insight across our #G2Great chat. These tweets further illustrate the vast wisdom of Intentional from the Start while offering another layer to their messages, ideas, and cautions. I'd like to start with a three-way conversation inspired by #G2great regulars and past guest hosts, Jennifer Scoggin and Hannah Schneewind: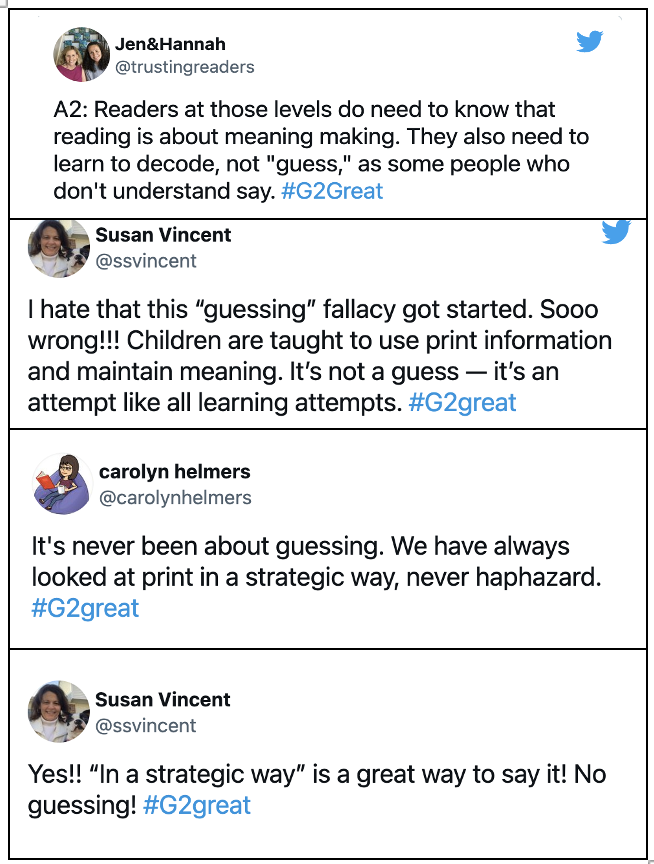 A common criticism of twitter is that it's impossible to have "deep conversations" in 280 characters. I would argue that twitter isn't designed for deep conversations but to offer thinking points that could invite this dialogue in other settings. Jen and Hannah shared a thinking point reflecting a common misconception that was then extended by Susan and Carolyn . Considering lack of knowledge or personal bias can often drive tweets, I would hope this could motivate discourse to move us beyond misconceptions that fuel shallow finger pointing as Jen, Hannah, Carolyn and Susan model for us here.
There was so much thinking point twitter wisdom from Susan and Carolyn that I wanted to share some here, with more at the end of my post. It is my hope that you will share this wisdom and use them to deepen your dialogue with colleagues.
Twitter Chat Wisdom to Inspire Deep Conversations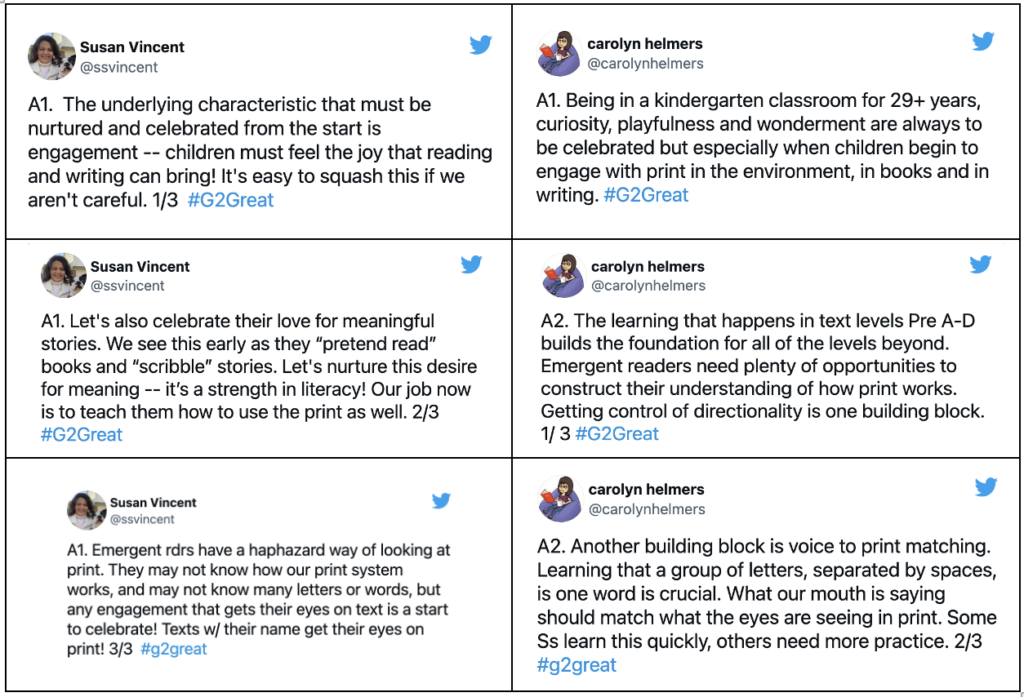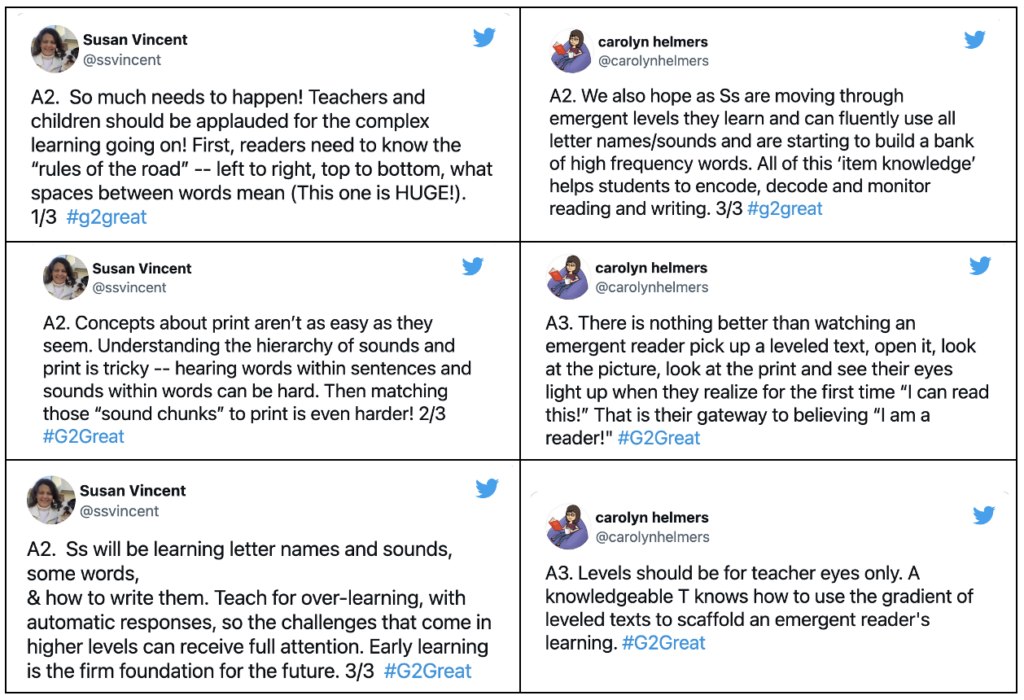 Let's listen to Carolyn and Susan reflect on the second question we asked them:
What are your BIG takeaways from your book that you hope teachers will embrace in their teaching practices?
Although guided reading is our focus, it's important to note that small-group reading instruction is a smaller piece of a much larger literacy puzzle for the emergent readers you teach. Exposing students to a wide variety of print in a wide variety of ways is crucial.
Quality leveled books in the earliest levels are written purposefully to scaffold emergent readers' skills in print. Teachers must understand the fine gradient of increasing difficulty in these early books and must know exactly what their readers need to learn when selecting books for readers. Marching through levels will not benefit young readers.
Effective readers hold onto meaning as they decode. Young readers need opportunities to practice this in early books.
Writing is a key to early literacy acquisition. Writing allows work on phonics skills in a meaningful context. Carefully constructed "stories" in writing provide opportunities to work on phonemic awareness, phonics skills, letter learning, word learning, concepts of print, and, of course, reading.
My Closing Thoughts
Since I began this post by looking at the early challenges that Carolyn and Susan felt as "step followers" of the WHAT of small groups, I'd like to return to their introduction:
"The ideas we present in this book are grounded in theory and we want you to have an understanding of that theory to help you move beyond doing the steps of guided reading and toward making expert decisions about what the earliest readers need during that critical small group time."
It is so important for us all to recognize that we cannot give our children the small group opportunities they deserve unless we take the time to seek and honor this theory. When we understand the research supported theory that supports our small group efforts, we then recognize that our emergent readers come to us with a wide range of experiences and understandings across a continuum. As we draw from the theory, we acknowledge that the instructional decisions we make keep those unique needs in mind in honor of our children and our deep belief in responsive professional decision-making.
That is the heart and soul of the small group instruction Carolyn and Susan describe in their quote below and across Intentional from the Start: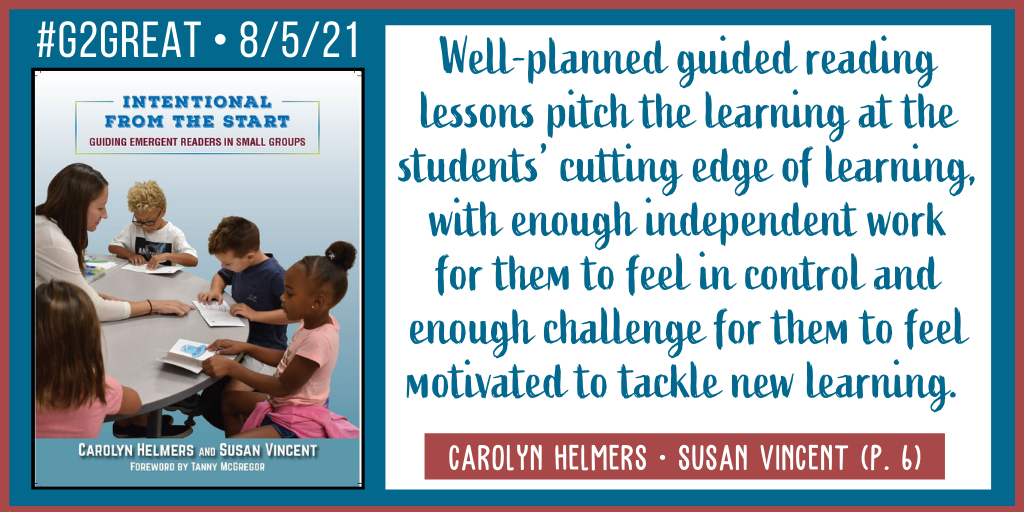 I'd like to close this post by giving the last words back to our very wise friends, Carolyn and Susan. So, let's begin by looking at their response to our last question, followed by more twitter nuggets of wisdom:
What is a message from the heart you would like for every teacher to keep in mind?
Guided reading respects teachers as professionals. Teaching with guided reading allows teachers to use their professional knowledge of how children become literate, knowledge of each child's literacy development, and skills in selecting teaching strategies. And although the teaching is complex, the learning is fun, creating joyful readers and writers.
People often misunderstand the level of teaching expertise needed to teach children in the earliest stages of literacy. Scaffolding children as they learn the early concepts of print, how words work, and how to maintain meaning in text requires complex teaching moves. Guided reading allows teachers to use all their professional knowledge and allows children to become skillful, joyful readers and writers.
We are filled with gratitude for your generous sharing Susan and Carolyn. I know that I am just one of many educators who will return often to your sage advice in the pages of Intentional from the Start.
More Twitter Chat Wisdom to Inspire Deep Conversations